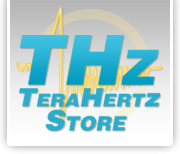 We see Terahertz being utilized in manufacturing, security, healthcare and a series of other areas.
Palatine, IL (PRWEB) March 31, 2014
eAccess Solutions originally distinguished themselves as the first company in the United States to open an on-line store for BlackBerry. After numerous successful departures from their original flagship store, eAccess is once again banking heavily on the evolution of an entirely different technology known as Terahertz. But what is Terahertz exactly? Terahertz (THz) waves refer to electromagnetic radiation in the frequency interval from 0.1 to 10 THz. The terahertz regime of the electromagnetic spectrum lies between the mid-infrared and microwave bands, which represents an important transition from quantum-level to bulk transport physics. Intricate by design, Terahertz has all of the potential to revolutionize the genre with its near limitless number of applications.
After the successful launch of the new eCommerce store called TerahertzStore.com (http://www.TerahertzStore.com), eAccess Solutions has removed any and all obstacles associated with the acquisition of Terahertz Sensors, Cameras and Spectrometers. The President of eAccess, David Bean has added that: "eAccess feels as if there is an unlimited amount of applications for Terahertz Technology. While the sensors and spectrometers are presently being used in a laboratory setting, we see them quickly being transferred and utilized in manufacturing, security, healthcare and a series of other areas." Possible industrial solutions for this relatively new technology include plastic sorting, industrial automation, medical imaging, security scanning, food packaging, paper/plastic manufacturing and much more. Given the inherit versatility surrounding Terahertz's technology and a near limitless host of applications; this is a valid assessment that will continue to become more and more apparent as time progresses.
In an effort to showcase the performance and versatility of the Terahertz name, eAccess has specifically selected the best packaged and most durable Terahertz equipment available. The inclusion of Highly Evolved Terahertz Sensors and Spectrometers address a host of challenges facing today's society. Regarded as "safe" for most applications, THz waves can be utilized in cancer detection, dental imaging, security inspection, pharmaceutical drug characterization and a host of other highly beneficial uses. The Terahertz Fiber Coupled Spectrometer at 1550 nm (Rigel-1550) is a premier product that encapsulates the natural multipurpose functionality of the Terahertz brand and lends itself to be utilized in a myriad of settings. Entirely portable, The Rigel is compact and swift in recognizing and deciphering solids, liquids, powders and gases. Coupled with Terahertz's revolutionary sensor technology, this product can be instrumental in hidden object detection, product inspection and material identification.
eAccess Solutions, Inc. (http://www.eAccess.com) is a global direct to consumer and business eCommerce provider. Headquartered in Chicago, IL, eAccess has Millions of Corporate, Government, Small Business and Individual Consumer customers worldwide.