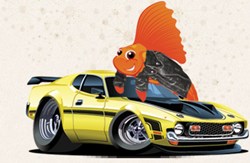 New York, NY (PRWEB) September 26, 2013
As property values in Spain continue to plummet, encouraging eager home-shoppers to consider making a second or new-home purchase in places like Madrid, Sevilla and Valencia, RoadFish.com has awarded Spanish property value website TerceroB.com with the honor of being their designated "Foreign Property Value Site of the Week."
According to a recent article, "Foreign Property Value Site of the Week," published on September 17th, 2013 in PropertyShowRooms.com, values on properties in Spain continued to fall last month. Property prices dropped an average of 9.3% in August alone, and have fallen over 38% since the height of the value back in December 2007.
In response to the significantly lowered prices of Spanish properties, RoadFish.com, a lifestyle magazine devoted to keeping men in their 30's and 40's in the know about travel, real estate, and other relevant topics, has crowned Spanish property value website TerceroB.com (in English, "3B") as being one of the best resources for Spanish-speaking consumers to turn to when property-shopping—or simply to see what's out there.
RoadFish.com's Senior staff writer is quoted as saying, "I think what we're going to see as the worldwide recession comes to a close, and international consumers are finding themselves in a much better place financially, is a willingness to venture out and make sizeable purchases again including second homes. And naturally Spain is drawing a lot of attention to itself right now, as its property values keep dwindling. It is very appealing to foreign and I'm sure local consumers alike, who are on the market for a new or second home. I have little doubt that we'll see a global eagerness to take advantage of the lowered property values, which are not guaranteed to keep dropping for much longer."
Spanish property value website TerceroB.com's tagline is "El Portal de las Casas," meaning in English "The Portal to the Houses." RoadFish.com enjoys featuring and highlighting different foreign property value websites for its readers who like to stay informed real estate deals and prices both locally and abroad.
About RoadFish.com:
RoadFish.com is an online magazine for men that features articles on lifestyle topics like travel, property values and real estate, luxury items, trending foods and restaurants, and dating advice.