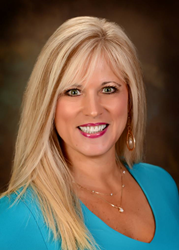 "I am a people person and no matter how you look at it, real estate is a people business. I am adaptable and friendly and I genuinely care about other people, in every sense of the word, not just in business."
Madison, MS (PRWEB) March 02, 2015
Teresa Jackson's website makeover now offers some video blogs mentioning highlights of Madison, and the Tri-County area, as well as home listings and photos, buying and selling tips, relocation information, demographics, and school information.
As a native of the area, Teresa has a knack for quickly identifying specific neighborhoods and areas that meet clients' expectations and needs. A mother of two children, she has personally experienced the different phases a family goes through and how those phases change what a family needs in their home; whether it be married without children, newborn babies, toddlers, grade-schoolers, the tween years, teenagers and the empty nest phase. Teresa's personal experience in all of these different seasons of life brings much insight to her clients, and she leaves no stone unturned in her quest to please her clients and exceed their expectations. Teresa has been a multi-million dollar producer each year.
"I am a people person and no matter how you look at it, real estate is a people business. I am adaptable and friendly and I genuinely care about other people, in every sense of the word, not just in business." said Teresa Jackson.
Before joining the world of real estate, Teresa was a dental hygienist for twenty years. During her last few years in the dental profession, she began studying the art of flipping houses. She bought and renovated older homes and either sold or rented them, winning the Rookie of the Year award, within her first year.
"Teresa is someone that we can trust ethically. She goes above and beyond for her clients. We have worked with her multiple times and recommend her highly to others" – said, Flavor Doctor's CEO Chad Rhoden, MD, PhD.
For more information, please call Teresa at 601-624-3019.
About ERA Real Estate Professional Teresa Pope Jackson
Teresa Jackson has been serving the Madison and surrounding communities in real estate for seven years. She enjoys all aspects of real estate: single family homes, multi-family homes, luxury homes, condominiums, town homes, and new construction.
About NALA™
The NALA is a full-service marketing agency providing custom personalized service for small and medium businesses throughout the United States.
PR Contact:
ttendell(at)thenala(dot)com
805.650.6121, ext. 361