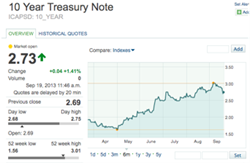 "By providing extra value and knowing the going rates and caps of all our carriers we should see in uptick in annuity sales," Cummins explained.
New York, NY (PRWEB) September 25, 2013
Annuity rates have been near all time lows for some time now. It was just around five years ago when you could see fixed annuity returns above 5%. That all changed with the global credit crisis in 2008. Once the bubble burst annuity rates and caps plunged.
One of the biggest reasons rates declined was due to the drop in the 10 year treasury bonds. TermLife-Insurance.com founder Brad Cummins has been following the trend for some time and has seen annuity rates decline right along with the 5 and 10 year treasury yields.
Not only has Cummins seen some of his annuity partner companies offering higher fixed rates, but also higher cap rates on their index annuity products. Some caps as high as 4% on a S&P monthly index annuity.
Annuities have been long known for their guarantees and a great way to produce a stream of lifetime income. Consumers have been buying annuities in record numbers. With the increase in rates you could see more of that, as advisors will now have some good opportunities to help their customers find better returns on their investments.
"By providing extra value and knowing the going rates and caps of all our carriers we should see in uptick in annuity sales," Cummins explained.
TermLife-Insurance.com is already offing annuities in all 50 states, making it even easier for people, no matter where they live, to access the guarantees of an annuity.
When asked what the future has in store for annuity rates and caps, Cummins had this to say:
"As long as the treasury yields keep the current trend, which has been up, we should see consumers be able to capitalize and take advantage of locking in the higher rates. "Will we see rates in the near future back at 5% like 2008? I am not sure, but currently we are headed in the right direction.. When you are close to retirement you can appreciate a solid fixed rate of return."
In 2008 before the global financial crisis and collapse of Bear Sterns and others, you could find fix rate annuities around 5.5%. Before the credit bubble not only annuities, but online savings account like ING Direct and Emigrant Direct were also yielding above 5% returns.
Cummins added annuities have been a scary word to some consumers who often say, "I don't like annuities." He said "when asked why, they typically have no logical answer to the question." Once consumers realize that annuities are a great way to generate a guaranteed income stream that you can never out live they typically have a change of heart.
Brianna Baiocco, co-owner of Insurance Market Agents an independent insurance agency is also seeing annuity rates trending up. She states, "you are seeing more increases in carriers that are B to B++ rated. If you are willing to look at carriers that are not A rated you can get better yield."
Annuity product are getting more advanced with the index annuity products. Index annuities give you the option to track the like of some of the major indexes like the S&P. Index annuities have features that ,offer the potential for double digit returns with no downside risk, compared to being in the stock market.
Cummins states the caps and participation rates are a key thing to watch when looking into a index annuity. When the cap rates rise similar to the fixed rate annuity it can give a consumer a change at higher returns. Now is a good time to start keeping an eye on the rates.
Contact:
Brad Cummins
855-743-0199
http://www.termlife-insurance.com