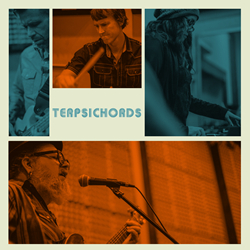 Velvet Revolver producer sends up funk New Orleans Style with The Terpsichords.
Los Angeles, CA (PRWEB) March 31, 2015
Velvet Revolver producer sends up funk New Orleans Style with The Terpsichords.
Guitarist and Producer Doug Grean spent decades working with some of the most famous (and temperamental) rock stars of today...co-producing Velvet Revolver's seminal album Contraband and later serving as Musical Director/Guitarist and Producer for Scott Weiland's solo projects for 15 years.
"Doug is extremely talented," Weiland says, "a genius, one of the coolest guitar players I've ever heard." Doug's working relationship of 15 years with Weiland ended about a year ago for reasons unknown to any but the two of them. Despite clear success and a natural affinity for living the hard rock dream, Grean couldn't leave his first true love – namely, the soulful sounds of New Orleans street music and inflections of bouncy and otherwise celebratory funk personified in his latest project, Los Angeles funk band The Terpsichords.
Spending his formative years in New Orleans, Grean jammed with some notable and respected scions of today's New Orleans funk sound (Ivan Neville, George Porter Jr, Russell Batiste and Mean Willie Green to name a few). That early immersion in funk and second line based grooves never truly went away; after exploring some jamband-y type groups and time with Weiland's Solo Band The Wildabouts, Grean found himself wanting to return 'home'.
"I'm constantly trying to wring new and exciting voices from the sometimes-mundane electric guitar," Grean says – and this is no joke, as his studio is awash in a modern technology and 70s amplifier blend. Yet, there is purity to the instrumentation of The Terpsichords new album Burt Reynolds that denies almost all attempts to throw synths and effects onto its vintage feel. You get the sense that while the band enjoys 21st century music offerings, their jams live play in a world that can only be described as retro – but don't mistake that with Mark Ronson's latest...this retro harkens back to a specific region and singular cast of players.
The Terpsichords is made up of Grean on guitar, Bassist Jon Spence, Drummer Keith Larsen, and Organist Valerie Taylor – a motley crew of LA studio specialists and live performers with a shared love of New Orleans based funk made famous by the Meters and Dr.John. Their debut album Burt Reynolds dropped on 1/31/15 at The Mint, Los Angeles (http://www.themintla.com) with special guest collaborator and epic New Orleans progenitor Dave Malone of The Radiators and (most recently) Raw Oyster Cult stepping in for a set and a smile. Dave's take on the Terpsichords?
"The groove and feel of a tune are as important as the chords and melody and playing…This baby is chock full of interesting groove-packed songs. I dig the guitar playing,melodic lines and twists the tunes make. I will say that there are reminiscent things from both LA's...Louisiana and Los Angeles....specifically, the Meters and Galactic, and then the Crusaders and the Chili Peppers....But I also caught some Gatemouth Brown and Zappa and Tower of Power! Just know this: Burt Reynolds is a quality record that I enjoyed immensely."
soundcloud.com/terpsichords
Burt Reynolds Promo Video
The Terpsichords can be found online at http://www.TheTerpsichords.com
Contact terpsichords(at)theterpsichords(dot)com
(310) 779-9045