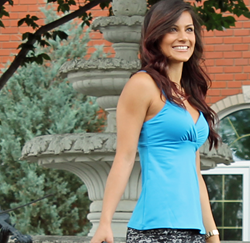 Customers wanting to take advantage of the online yoga clothing sale can go to www.terrafrog.com on January 24th, 2015
Edmonton, Alberta (PRWEB) January 09, 2015
TerraFrog Athletic Wear, announced today that the company will hold a one day online flash sale on January 24, 2015 to celebrate seven years in the ladies apparel industry. The Canadian yoga clothing company officially launched their designer sportswear line seven years ago this January. Since TerraFrog's first leap into the athletic apparel industry, the company has grown from a small grassroots clothing manufacturer to a well known online yoga clothing store.
"The last seven years have been amazing," said TerraFrog Director, Cori Windsor. "We love being part of the vibrant fashion industry and online yoga community . We are very excited about celebrating this milestone with our customers."
Online customers wanting to take advantage of the anniversary flash sale can go to http://www.terrafrog.com on January 24th, 2015. All TerraFrog yoga clothing and designer athletic wear will be up to 70% off-- including TerraFrog's yoga pants and athletic shorts. Shop early for best selection.
About TerraFrog Clothing Corp:
TerraFrog Clothing Corp. is a Canadian athletic wear manufacturer providing unique, high quality yoga clothing to individuals and select retail outlets. TerraFrog is well known for their exclusive, trend setting designs and styles.
TerraFrog designs can be purchased directly through the TerraFrog website or at select retailers across Canada.
What is a Flash Sale?
A flash sale is a type of ecommerce in which a website offers a product or products at a substantial discount for a period of 24 to 48 hours.