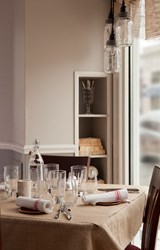 Carlstadt, NJ (PRWEB) November 14, 2013
In just a few short months, football fans from around the country will descend upon New Jersey. February 2, 2014, is a day that will be remembered not only in the NFL, but across the New York and New Jersey region, as Super Bowl XLVIII will be played outdoors in a northern market for the first time ever. So whether fans arrive by train, plane or automobile, one of their first glimpses of New Jersey will be the Meadowlands and its surrounding towns right in the dead of winter.
Visitors expecting a more rural view of the Garden State may wonder how New Jersey earned its name. The gateway to New Jersey's rich agricultural heritage is Terre à Terre located literally within arm's throw of the MetLife Stadium in Carlstadt. Serving New American cuisine, Terre à Terre is a farm-to-table restaurant and retail market featuring locally grown and sustainably raised foods.
Visitors don't have to travel very far to get Bobolink Dairy and Bakehouse cheeses, Shibumi Farm's exotic mushrooms, Blue Moon Acres Farm's microgreens, Mosefund Farm's prized Mangalista pork, or Viking Village Scallops. That's because the restaurant serves more than a few token local products from the greenmarket; Terre à Terre sources mostly everything local from the maple syrup to the butter on the table – from pasta to local grass-fed beef. Terre à Terre considers anything "local" as a product that travels roughly 300 miles to get to its location in Bergen County.
"While we try to stay as local as possible, we are willing to go a few extra miles to get a special product we just can't get in the immediate area," says Chef Owner Todd Villani. "Just recently, we sourced wonderful dried meats and salami that made one of Oprah's Favorite Things List: Olli Salumeria in Virginia. The quality of their meats depends on their farm partners, which includes Mosefund Farm another local supplier we use. In the coming weeks, we plan on featuring these products in holiday gift boxes and a special charcuterie plate."
In creating Terre à Terre, translated as down to earth, Chef Villani brings many years of restaurant experience working for some of Manhattan's top restaurants, including Chef Marcus Samuelsson's renowned Aquavit restaurant and at his subsidiary interest, World Yacht, combining simple fresh foods with a creative blend of exotic flavors and ingredients – his signature approach to preparing foods with an international flair.
With almost 45 seats and a private dining area, the Chef's Table, which offers a multi-course gourmand tasting menu, Terre à Terre provides dining from Wednesday through Saturday 5:30 – 10:00 and on Sunday for brunch 11:00 – 2:30 p.m.
In addition to its regular menu, Terre à Terre is ushering in the holidays with a game dinner on December 3, Take a Walk on the Wild Side. The restaurant is also booking holiday parties.
Terre à Terre is located at 312 Hackensack Street. For more information, or to learn more about the farmers and artisans supplying Terre à Terre, visit http://www.terreaterre.biz. The restaurant takes reservations online at http://terreaterre.biz/reservation/ and by phone at 201.507.0500.