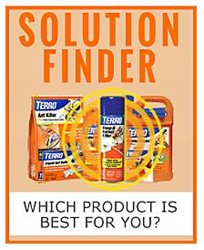 Our aim is to cultivate a customer community of like-minded people. Sharing stories, ideas and photos will help to keep the site genuine and fresh.
Lititz, PA (PRWEB) April 10, 2014
TERRO®, a leading manufacturer of DIY pest control products, recently launched a new, interactive website to provide bug-afflicted consumers with a custom, interactive experience designed to help them find the right solution for their pest problems. Given the brand's extensive product offerings from ant baits and contact killers to home barrier products and insect traps, the new TERRO website helps visitors find information easily and quickly.
"When creating the site, one of our guiding principles was to develop content that would be relevant to our customers and serve as a single resource for all their pest control needs," says Kelly Howard, TERRO Category Development Associate. "The new site is a comprehensive, valuable resource for anyone seeking information about the insects plaguing them and how to get rid of them. We've provided interactive tools to help consumers select just the right products to control whatever happens to be bugging them at the moment."
Key features of the new site include:

Learning Center: Discover interesting facts about ants, spider, fruit flies, wasps, mosquitoes and other household pests in the new Learning Center. Learn about their habitats, reproduction patterns and the best pest control options. Find out the difference between baits, contact killers, home barriers and traps.
Solution Finder: A custom, interactive experience provides visitors with the ability to choose exactly the right pest control product to get rid of whatever is bugging them.
Reward Points: Earn TERRO® Reward Points that can be used towards purchases of TERRO products in the new online store. Customers receive points when they register for a new account, place online orders, subscribe to the TERRO eNewsletter, submit product reviews and invite friends to register or checkout online.
Go Social: Be part of the conversation with a community of like-minded individuals. Write product reviews, upload photos, and share products with friends.
"We purposely set out to encourage consumer interaction by providing tools that support user-generated contributions such as ratings, reviews, comments and photos," says Howard. "Our aim is to cultivate a customer community of like-minded people. Sharing stories, ideas and photos will help to keep the site genuine and fresh."
# # #
About TERRO
TERRO® is an industry leader in ant and pest control and has been a trusted brand for more than 90 years. Based in Lititz, PA, the company offers proven ant and pest control products including liquid ant baits, aerosol sprays, perimeter granules and ant dust products. TERRO products are widely distributed at all leading hardware, home center, mass merchant, food and drug, farm and fleet, and independent garden center retailers nationwide. For more information on TERRO products, call 1-800-800-1819 or visit http://www.terro.com.