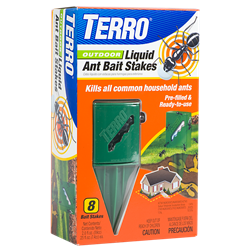 Getting rid of sweet-eating ants is a piece of cake with the new TERRO Outdoor Liquid Ant Bait Stakes.
Lititz, PA (PRWEB) May 27, 2014
TERRO®, a leading manufacturer of do-it-yourself pest control products, has added TERRO® Outdoor Liquid Ant Bait Stakes to their line of proven ant control solutions. Designed for outdoor use, the new pre-filled, ready-to-use ant killer stakes contain a specially formulated liquid ant bait solution that attracts and kills all common household ants. For effecive, long-lasting control of sweet-eating ants, including argentine, ghost, little black, acrobat, pavement, odorous house, crazy and cornfield ants, simply place the Liquid Ant Bait Stakes outside near ant trails or areas where ants have been observed.
"When you first place the Outdoor Ant Bait Stakes in the ground you're going to quickly see a surge in the number of ants, but they will soon disappear," says Kelly Howard, TERRO Category Development Associate. "The liquid ant bait is formulated to allow worker ants to consume the product and survive long enough to carry it back to the nest and deliver a deadly does to the rest of the colony. This is the only way to kill the ants you see and the hundreds of ants that you don't see."
TERRO® Outdoor Liquid Ant Bait Stakes are one of the most convenient and economical ant killers available on the market today, thanks to a number of stand-out features. A snap off bait activation system keeps the liquid ant bait fresh until ready to use. Reinforced stake ridges on the rugged, weatherproof units provide increased strength when placed in the ground. A see-through window makes it easy to monitor the liquid ant bait level so you know when it's time to replace the stake. A built-in tiered bait pack increases bait consumption and reduces waste.
"After the stake is placed in the ground, just break off the bait pack tab to activate it," says Howard. "Very quickly, ants will begin to enter the stake through the hole created by removing the tab."
To maximize effective control of an ant invaision, keep a fresh supply of the TERRO liquid ant bait available for the foraging ants to consume. Monitor the bait level regularly, taking care not to interfere with the ants or the stakes while doing so. When the bait level is no longer visible through the see-through bait monitor, replace the ant killer stake.
"Getting rid of sweet-eating ants is a piece of cake with the new ant bait stakes," says Howard. "However, you may need to be patient. Depending on the size of the ant infestation, complete elimination of the colony may take up to two weeks."
Each package of ready-to-use TERRO® Outdoor Liquid Ant Bait Stakes contains eight pre-filled stakes. The product may be purchased at leading retailers or online at http://www.terro.com. For more information on the extensive line of TERRO ant control products, visit http://www.terro.com/store/ants.
# # #
About TERRO
TERRO® is an industry leader in ant and pest control and has been a trusted brand for more than 90 years. Based in Lititz, PA, the company offers proven ant and pest control products including liquid ant baits, aerosol sprays, perimeter granules and ant dust products. TERRO products are widely distributed at all leading hardware, home center, mass merchant, food and drug, farm and fleet, and independent garden center retailers nationwide.