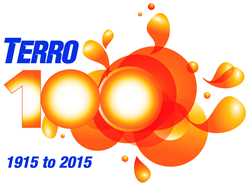 Our history has been defined by forging meaningful relationships with our customers.
LITITZ, PA (PRWEB) June 10, 2015
In honor of its centennial anniversary, TERRO®, a trusted brand in ant control solutions since 1915, is taking the opportunity to reaffirm its deep-rooted commitment to finding new, simple and effective ways to help meet its customers' present-day pest control needs. This year marks the 100th anniversary of the introduction of the brand's iconic Liquid Ant Killer and TERRO is commemorating the occasion by rolling out 100 Days of Celebrations, a birthday blowout of cash prizes, discounts and giveaways for its customers and loyal fans.
"Our history has been defined by forging meaningful relationships with our customers," says Malory Spisak, TERRO Category Development Associate. "We all know what it's like to have ants invade our homes and we all know how great it feels when you successfully get rid of them. We love to share the feeling of success with others. It's why we continue to stand by our tagline, It Works!™"
TERRO kicked off its centenary with a 100-year anniversary logo design competition. They invited their customers to design and submit a logo that embodied 100 years of the brand's authenticity and commitment to standing behind their ItWorks!™ tagline. The winner received a $100 cash prize and a $100 TERRO prize package. The winning logo will grace TERRO social pages and website.
"Beginning this month, we will be celebrating the indispensable role our pest control products play in our daily lives with 100 days of giveaways, sweepstakes and charitable donations," says Spisak. "We will be taking a stroll down memory lane, highlighting some fun facts from the year 1915. We will also be taking a lighthearted look at why TERRO works better to kill ants than other methods."
Highlights of the TERRO 100 Days of Celebrations include:

Celebrating 100 Great Years Sweepstakes – A total of $1,500 in cash and prizes will be up for grabs throughout this 100 day-long sweepstakes. Users can enter the contest on the TERRO Facebook page once a day, every day, for a chance to win.
Customer's Choice Charitable Donation – TERRO will invite their customers and social media followers to vote for one of four chosen charities. TERRO will donate $1.00 per order and present a check for up to $1,000 to the charity with the most votes. Voting begins in July.
Special anniversary discounts on purchases at http://www.terro.com - From free shipping for the 1st 100 orders placed to $1 flat rate shipping, TERRO customers will have the opportunity to save significantly on their favorite products. Check in frequently to see which promotion is being featured.
Social Media Giveaways – Follow TERRO on Facebook, Pinterest and Twitter for your chance to win TERRO branded merchandise. Giveaways will be ongoing May through August.
Visit the company's website or http://www.facebook.com/TerroDeadAnts for more information on the 100 Days of Celebrations.
# # #
About TERRO®
TERRO is an industry leader in ant and pest control and has been a trusted brand for 100 years. Based in Lititz, PA, the company offers proven ant and pest control products including liquid ant baits, aerosol sprays, perimeter granules and ant dust products. TERRO products are widely distributed at all leading hardware, home center, mass merchant, food and drug, farm and fleet, and independent garden center retailers nationwide. For more information on TERRO products, call 1-800-800-1819 or visit http://www.terro.com.