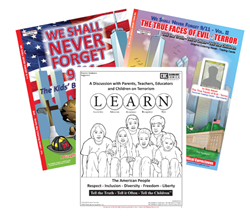 Parents ask for these products, if they did not want these books, they simply would not purchase them.
Saint Louis, Missouri (PRWEB) August 26, 2014
"This is difficult and not an easy subject or press release; these products are complicated and require adult supervision while addressing the murders of innocent Christian children, adults and also the annihilation of entire families. 'Brutal' is hardly the word for it. Savage, barbaric, and animalistic is a little bit more accurate. In an effort to explain and educate today's youth about this hardcore cultural subject, the terrorist must be discussed with open dialogue both inside the Islamic community, and in the global community as a whole," states publisher Bell, and he backs up his statements on video.
The educational books are available today at the company website for We Shall Never Forget 9/11 "Kids Book of Freedom" at $4.99 and The True Faces of Evil Terror w/ trading cards for $6.99. The Terror Update on Global Jihad supplement pages are complimentary with either or both titles. Company officials stated they sent copies of these books to all 50 State Departments of Education as well as the U.S. Department of Education in Washington, D.C. Publisher under the banner, "Tell the Truth - Tell it Often - Tell the Children" the company is known for high profile products from politics to religion in their cultural event division.
Organizations such as the Council on American Islamic Relations (CAIR), The Muslim Brotherhood, Student Muslim Organizations and The Islamic Society of North America are being called upon by RBCB to help citizens understand terror and its origins. "Historically our company has received feedback, pro and con, concerning these products; the basic premise we are doing our part to educate children in America and abroad on the perils of terror," Bell continued.
Company officials reported since 2011 this line of education terrorism books has sold in over 100 countries across the globe and the high interest on the topic continues today. Parents ask for these products, if they did not want these books, they simply would not purchase them, according to their publisher.
Really Big Coloring Books®, Inc., headquartered in St. Louis, MO, is a multi-national company providing quality children's teaching and learning tools and coloring book products for over two decades. Known for their market leading positions the RBCB family of products are classic, colorful and unique. The company owns nearly 1,000 coloring book related domain names in several countries and is a trend-setting leader in the coloring book industry. RBCB company products are manufactured in the U.S.A. To find out more call 314-725-1452.
Huffington Post Seth Adam Smith 08-22-2014. 'Brutal' is hardly the word for it. Savage, barbaric, and animalistic is a little bit more accurate.
huffingtonpost.com/seth-adam-smith/im-tired-of-praying-for-i_b_5699011.html
Video shows ISIS beheading U.S. journalist James Foley
By Chelsea J. Carter, CNN
updated 11:17 AM EDT, Wed August 20, 2014
cnn.com/2014/08/19/world/meast/isis-james-foley/
JAMES FOLEY, American photojournalist, has been beheaded by the Islamic State (ISIS) savages.
barenakedislam.com/2014/08/19/james-foley-american-photojournalist-has-been-beheaded-by-the-islamic-state-isis-savages/