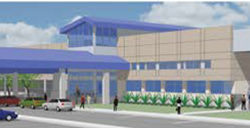 I cannot say enough about the teamwork, cooperation and creative approaches of everyone involved but I especially want to thank Mr. Hayes Badeaux our building committee chair as well as Superintendent Philip Martin for their leadership.
Houma, Louisiana (PRWEB) July 16, 2014
Excitement surrounds the unveiling ceremonies of Grand Caillou Middle School, scheduled for Thursday, July 17 at 6 pm at 2161 Grand Caillou Road, Houma, LA as Terrebonne Parish Public School officials cut the ribbon at the newly-constructed school. The 57,000 plus square foot facility will feature innovations in learning such as Promethean boards, projectors and computers as well as a state-of-the-art computer lab is also part of the new school.
Innovations in construction are also featured including elevations that place classrooms ten feet above sea level and buildings engineered to withstand winds of up to 150 miles per hour. A 15,000 plus foot covered outdoor area, covered bus lanes and a dramatic blue exterior round out some of the more striking features of the new school.
Adding to the school's highlights are benefits not immediately seen but just as dramatic such as construction funding supported by zero-interest bonds negotiated by the Terrebonne Parish School Board that saved taxpayers $10 million of what would have been typical school construction interest costs. An existing 1 cent sales tax will retire the bonds over time requiring no new taxes to fund construction. The board also was able to negotiate a donation of the land, further adding to the savings.
According to Terrebonne Parish School Board President, Roger DeHart, "This is a great day for Terrebonne Parish Public Schools, our students, our families and our teachers. It's been 27 years since we cut a ribbon on a new school and it's a thrill to see our system advance from a building constructed in 1937, to the ultra-modern one our kids will come to in just a few weeks. I cannot say enough about the teamwork, cooperation and creative approaches of everyone involved but I especially want to thank Mr. Hayes Badeaux our building committee chair as well as Mr. Philip Martin, our Superintendent for their commitment and leadership in the construction of this school."