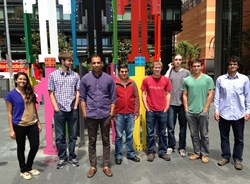 This is an important first step for TeselaGen. We have very useful synthetic biology technology that we want to get into the hands of as many people as possible.
San Francisco, CA (PRWEB) September 27, 2013
TeselaGen's release is the first component of its proprietary Synthetic Evolution(tm) platform to be made public. TeselaGen's platform uses synthetic biology approaches to automate the design and construction of DNA, as well as statistical learning approaches to feed multi-protein complex and metabolic pathway performance back into the design process. An automated DNA construction protocol generator, under exclusive license from the University of California, lies at the core of TeselaGen's Synthetic Evolution(tm) platform.
"This is an important first step for TeselaGen. We have very useful synthetic biology technology that we want to get into the hands of as many people as possible. We have leveraged new software technologies to create our easy to use bioCAD platform. An HTML5/Javascript-based application provides a richly interactive environment compatible across multiple browsers. On the back end, Node.js and MongoDB give us the flexibility and collaborative capability our users need and the platform scalability industry demands," says Dr. Eduardo Abeliuk, CTO of TeselaGen.
About TeselaGen
TeselaGen is a California-based synthetic biology technology provider whose proprietary Synthetic Evolution(tm) platform enables the development of viral vaccines, biologic medicines, and sustainably sourced chemicals. The company's customers, validating its approach, include AMGEN (USA), Genomatica (USA), and Redbiotec (Switzerland). TeselaGen is privately held and is based in San Francisco, CA. Recently founded by three former Stanford fellows and housed at the QB3 incubator at UCSF, the company has received early recognition in the form of two US National Science Foundation grants and a Bio-IT World Best Practices Award.