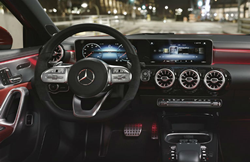 MERRIAM, Kan. (PRWEB) February 22, 2019
When drivers choose a vehicle from Mercedes-Benz, it's because they know that the refinement, performance and style that accompanies the Silver Star badge is worth the price for which these vehicles sell.
For those drivers who have sought this combination of attributes with an entry-level price, the Mercedes-Benz CLA-Class has been the go-to since 2013. The four-door Mercedes-Benz CLA coupe features the manufacturer's signature design, focus on driver comfort and convenience and range of performance options in a body engineered for urban agility and ease of parking.
With the new year, however, the designers and engineers at Mercedes-Benz have brought a new model to the North American Market in the 2019 Mercedes-Benz A-Class. Taking the place of the CLA-Class as Mercedes-Benz entry-level option, the 2019 Mercedes-Benz A 220 gives drivers access to cutting-edge technology, invigorating performance and luxurious interior amenities. As with any Mercedes-Benz model, all these features are underscored by the sedan's sophisticated and composed design and styling.
To help share more information about this model, the staff at Aristocrat Mercedes-Benz, a Mercedes-Benz sales and service center in Merriam, have published a page on the dealership's website highlighting the features and specs of the brand-new model.
Moreover, sales staff at Aristocrat Mercedes-Benz are excited to announce that the 2019 Mercedes-Benz A-Class has arrived at the dealer's showroom and lot, making it now available to test-drive. Staff members are confident drivers will love the new Mercedes-Benz User Experience (MBUX) infotainment experience with natural voice control, two-liter turbocharged engine and available 4MATIC® all-wheel-drive system.
Those shoppers seeking to schedule a test-drive are encouraged to use the online scheduling form at the dealership's website. Those looking for more information can call the Aristocrat Mercedes-Benz sales team directly at 855-979-0607. Aristocrat Mercedes-Benz is located at 941 W. 65th Street in Merriam.