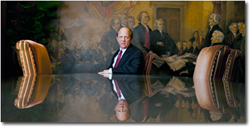 St. Louis, MO (PRWEB) August 26, 2014
Important strides forward were made last week in the testosterone multi district litigation, MDL. No. 2545 – In Re: Testosterone Replacement Therapy Products Liability Litigation, report attorneys handling Testim lawsuit claims nationwide. In an August 22 Case Management Conference, representatives of the defendants' counsel and the plaintiffs' attorneys convened to discuss procedures for discovery and make plans for collaborating with testosterone litigation for Testim and similar products being handled in State Courts.
As of August 25, 2014, a total of 209 heart attack and stroke claims have been filed related to testosterone products such as Testim as part of the MDL. Testosterone users from around the country who suffered from cardiovascular problems while using Testim or a similar drug have joined forces to seek justice from testosterone producers including Auxilium Pharmaceuticals, the maker of Testim. The MDL is in early stages in the U.S. District Court of Northern Illinois, and new cases are being accepted at this time.
Testim and other testosterone drugs have received FDA approval only to treat hypogonadism and its side effects. Hypogonadism is a condition suffered by men whose testicles do not produce adequate levels of testosterone. Other conditions can be easily mistaken for hypogonadism; the only sure way to diagnose the condition is a blood test. The Journal of the American Medical Institute found that as many as a quarter of men taking testosterone drugs such as Testim were never tested for hypogonadism.*
Based on new information published this year, federal regulators are warning against taking testosterone replacement therapy without clear medical need. Testosterone products including Testim and others came under scrutiny by federal regulators during 2014 when new research indicated testosterone treatment therapy may pose serious health risks. Federal regulators have issued two FDA testosterone warnings, cautioning medical practitioners and consumers of the dangers associated with taking Testim and similar therapies. On January 31, 2014, an FDA warning cautioned the medical community about new connections between testosterone therapy and cardiac incidents such as heart attack and stroke.** And on June 19, 2014, the FDA required testosterone replacement therapy manufacturers to add a warning to the product label regarding the risk of veinous blood clots, and associated medical conditions including deep vein thrombosis and pulmonary embolism.***
Nationally respected for its work in product safety litigation against national and multi-national entities, The Onder Law Firm has committed its significant resources to providing legal representation for Testim lawsuits. Persons who suffered from a heart attack or stroke while using testosterone replacement therapy may have grounds to file a testosterone lawsuit.
The Testim Testosterone Lawsuit Center website serves as a national resource on Testim lawsuit news and information. Persons who believe they may qualify for to file a Testim claim are eligible for a no-cost consultation through the website.
The Onder Law Firm welcomes AndroGel lawsuit or other testosterone case inquiries from law firms in regards to handling them or working as co-counsel.
About The Onder Law Firm
Onder, Shelton, O'Leary & Peterson, LLC is a St. Louis based personal injury law firm handling serious injury and death claims across the country. Its mission is the pursuit of justice, no matter how complex the case or strenuous the effort. The pharmaceutical and medical device litigators at The Onder Law Firm have represented thousands of Americans in lawsuits against multinational conglomerates from products liability for manufacture of defective or dangerous products to deceptive advertising practices. Other firms throughout the nation often seek its experience and expertise on complex litigation. It is also a recognized leader in products liability cases such as window blind cord strangulation. The Onder Law Firm offers information from attorneys handling Testim lawsuits at http://www.TestimTestosteroneLawsuitCenter.com.
*archinte.jamanetwork.com/article.aspx?articleid=1691925
**fda.gov/Safety/MedWatch/SafetyInformation/SafetyAlertsforHumanMedicalProducts/ucm384225.htm
***fda.gov/drugs/drugsafety/ucm401746.htm