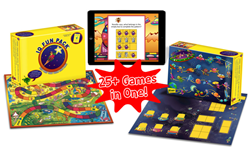 National best-selling author Karen Quinn, the Testing Mom, will be the keynote speaker at each of these events in Chicago and New York City.
New York, NY (PRWEB) October 13, 2015
Due to the overwhelming response and success from last year's Testing Week, TestingMom.com is pleased to announce their third annual Testing Week that will take place October 17, 2015 through October 21, 2015 in Chicago and New York City. This is the first year that Chicago has been added to schedule due to the volume of children taking the CPS gifted test. This week-long parade of live events will guide Chicago and New York City parents through the mystical maze of how to effectively prepare their child for the upcoming CPS test – classical and gifted, OLSAT® Test – Eighth Edition and Naglieri Nonverbal Ability Test® (NNAT®-2 Test).
This year's Testing Week features three live events in Chicago and New York City parents of pre-k students through second graders. These seminars will fill up quickly so parents are urged to reserve their seat as soon as possible.

Chicago (downtown) – Saturday, Oct. 17 at 2pm to 4pm – register here
New York City (midtown) Monday, Oct. 19at 6:30pm to 8:30pm –SOLD OUT
New York City (midtown) on Wednesday, Oct. 21, at 6:30 to 8:30pm – register here
Karen Quinn, the Testing Mom, will be the keynote speaker at each of these events. Other speakers include a gifted and talented school principal, a doctor in early childhood psychology, a private tutor specializing in early childhood development, parents of students who attend gifted and talented programs, local gifted experts from both NYC and Chicago.
At each of these events, Karen Quinn, the Testing Mom, will perform a live demonstration of Testing Mom's new flagship product IQ Fun Pack. This IQ Fun Pack is for involved parents who want to do learning activities with their children while limiting use of technology. The game has over 10,000 questions and includes 25+ games in one, with three game boards, including one for the "Are You Smarter than a Space Baby" game where a child shows off how much they know!
TestingMom.com is a Web site that helps pre-K to 8th graders build skills for school success and ace important tests, such as the CogAT test, OLSAT test, GATE test, NNAT-2 test, and many others. The online-based membership service is geared for parents seeking prep materials and expert guidance on gifted and talented, private school admissions, state assessments (including common core). The company was founded in 2010 by Karen Quinn, author of the National Bestselling The Ivy Chronicles and Testing for Kindergartent, and Michael McCurdy, one of the most popular "daddy bloggers" in New York City with his New York City Gifted and Talented Blog.