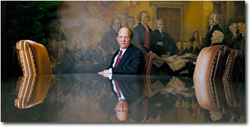 St. Louis, MO (PRWEB) November 13, 2014
Lawyers providing legal representation for testosterone lawsuits report progress in the national multidistrict litigation for testosterone lawsuits; meanwhile, a major news source, Bloomberg Businessweek, reported on losses in the testosterone replacement therapy market. These attorneys offer timely testosterone lawsuit news updates and testosterone lawsuit case review at androgeltestosteronelawsuitcenter.com.
Testosterone lawsuits have been consolidated as a multidistrict litigation, In Re: Testosterone Replacement Product Liability Litigation - MDL No. 254, in U.S. District Court in the Northern District of Illinois. The case has been moving forward routinely, according to attorneys representing testosterone lawsuit claims. A November case management conference was held on the subject of bellweather cases and the establishment of protocol regarding electronically-stored information (ESI), according to court documents. A total of 490 testosterone lawsuits have now been consolidated under this litigation, according to court documents accessed November 11, 2014. The defendants in the case include major pharmaceutical companies, including Pfizer, Inc., AbbVie, Inc., and Eli Lilly & Co., among others, according to court documents.
Plaintiffs who have filed testosterone lawsuits include men who experienced heart attack and stroke while taking testosterone replacement therapies. The case, MDL No. 2545 – In Re: Testosterone Replacement Therapy Products Liability Litigation, is representative of men who suffered heart attack, stroke, or another cardiovascular problem they allege is linked to a testosterone drug, according to court documents. Testosterone lawsuits have been filed for a variety of testosterone replacement drugs, including gels and injections.
An article published in Bloomberg Businessweek entitled "Safety Concerns Slow Sales of Testosterone Therapy"* asserts that dropping sales for testosterone therapy drugs are the result of increasing awareness of potential dangers with the treatment. Specifically, Auxilium Pharmaceuticals, the maker of Testim, downsized its sales department by 190 jobs in September, then was bought out by Endo International in October, according to the article. AbbVie sales fell by 5% in the first half of 2014, and the pharmaceutical market company IMS Health reported an overall drop in testosterone drug sales of 6% compared to last year's numbers, according to Bloomberg. Furthermore, the article notes that spending on testosterone marketing has also dipped.
The article specifically sites the outcome of an FDA panel that was convened in September of 2014 as hurting the testosterone market. According to the New York Times**, an expert panel voted on September 17, 2014 to advise the federal agency to add new warnings and restrictions to testosterone product labels in order to limit prescriptions to men with genuine hypogonadism. The FDA says the efficacy of the drugs is as yet unproven and the risks they pose may be serious, according to the NY Times.
Attorneys handling national testosterone lawsuits believe that men and the families of men who experienced heart attack or stroke while taking testosterone may be entitled to real compensation by filing a testosterone lawsuit. Known across the country for their superior work in drug and product safety litigation against multi-billion dollar corporations, these testosterone attorneys have committed their firm's significant resources to providing expert legal representation to men and the family members of men who believe they may have grounds to file testosterone lawsuits. Individuals and family members of individuals who meet this description are entitled to a no-cost, no-obligation consultation through the firm's Androgel Testosterone Lawsuit Center website.
The Onder Law Firm welcomes testosterone lawsuit or other testosterone case inquiries from law firms in regards to handling them or working as co-counsel.
About The Onder Law Firm
Onder, Shelton, O'Leary & Peterson, LLC is a St. Louis based personal injury law firm handling serious injury and death claims across the country. Its mission is the pursuit of justice, no matter how complex the case or strenuous the effort. The pharmaceutical and medical device litigators at The Onder Law Firm have represented thousands of Americans in lawsuits against multinational conglomerates from products liability for manufacture of defective or dangerous products to deceptive advertising practices. Other firms throughout the nation often seek its experience and expertise on complex litigation. It is also a recognized leader in products liability cases such as window blind cord strangulation. The Onder Law Firm offers information from attorneys handling testosterone lawsuits at http://www.AndrogelTestosteroneLawsuitCenter.com.
*businessweek.com/articles/2014-11-06/safety-concerns-hurt-sales-of-testosterone-replacement-therapy, 11/6/14
**nytimes.com/2014/09/18/health/testosterone-drugs-fda.html, 9/17/14