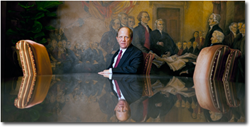 St. Louis, MO (PRWEB) December 23, 2014
A status conference has been scheduled for the Androgel lawsuit multidistrict litigation, MDL 2545, report attorneys handling national testosterone lawsuits for the Onder Law Firm. A calendar available through the Judicial Panel on Multidistrict Litigation's website indicates the next development in the testosterone lawsuits will take place on January 12, 2015 in the U.S. District Court, Northern District of Illinois.
According to court documents, at least 620 testosterone lawsuits have already been filed as part of the multidistrict litigation. Claims originate from district courts around the nation, and a recent topic in the MDL was the coordination plan for these various claims, according to court documents.
Attorneys handling Androgel testosterone lawsuits at the Onder Law Firm suggest this particular MDL may have a layer of complexity not common to all MDLs. "Rather than a single defendant as in some product liability litigation cases, the testosterone lawsuit MDL includes a large number of defendants, which include national and international pharmaceutical companies. A decision has been made to conduct bellweather trials – which in some senses, set the stage for the handling of the bulk of the testosterone lawsuits – based only on Androgel lawsuits. Deciding how coordination would be conducted across the various products, types of injuries sustained by plaintiffs, and geographic locations, has been the subject of recent deliberations," explained Jim Onder, whose testosterone attorneys offer no-obligation case review.
The defendant list includes over a dozen pharmaceutical companies based in the United States and around the world. According to court documents, the defendants include major pharmaceutical corporations such as Abbott, Eli Lilly, Auxilium Pharmaceuticals, AbbVie, Pharmacia & Upjohn, and Pfizer, among others. For defendants based in the United States, court documents indicate a concentration of cases against a company are being filed in their district court. Coordination efforts will require attention to timing across geographical areas and between different defendants, according to court documents. In order to maintain efficiency, court documents show a decision was made to coordinate efforts "where feasible".
Testosterone Lawsuits
Plaintiffs who have filed testosterone lawsuits already allege serious health problems linked to their use of a testosterone product ranging from heart attack and stroke to deep vein thrombosis and pulmonary embolism, according to court documents. The lawsuits included in the testosterone MDL say the companies are responsible for making what plaintiffs allege were false and misleading marketing claims that failed to fully warn consumers of the drug's risks, according to court documents.
Lawyers representing men and the families of men nationwide in testosterone lawsuits for alleged heart attack, stroke, or another serious or life threatening health problem believe that such persons may be entitled to real compensation by filing a testosterone lawsuit. Renowned throughout the country as a leader in drug and product safety litigation against multi-billion dollar corporations, the Onder Law Firm has committed its significant resources to providing expert legal representation to men and the family members of men who believe they may have grounds to file an Androgel testosterone lawsuit. Men and the loved ones of men who meet this description may contact the firm for a no-cost, no-obligation consultation through the Androgel Testosterone Lawsuit Center.
The Onder Law Firm welcomes testosterone lawsuit inquiries from law firms in regards to handling them or working as co-counsel.
About The Onder Law Firm
Onder, Shelton, O'Leary & Peterson, LLC is a St. Louis based personal injury law firm handling serious injury and death claims across the country. Its mission is the pursuit of justice, no matter how complex the case or strenuous the effort. The pharmaceutical and medical device litigators at The Onder Law Firm have represented thousands of Americans in lawsuits against multinational conglomerates from products liability for manufacture of defective or dangerous products to deceptive advertising practices. Other firms throughout the nation often seek its experience and expertise on complex litigation. It is also a recognized leader in products liability cases such as window blind cord strangulation. The Onder Law Firm offers information from attorneys handling testosterone lawsuits at http://www.AndrogelTestosteroneLawsuitCenter.com.

Testosterone Replacement Therapy Product Liability Litigation – MDL No. 2545, Northern District of Illinois