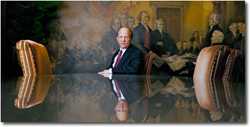 St. Louis, MO (PRWEB) March 18, 2015
In the latest testosterone lawsuit news, the Judicial Panel on Multidistrict Litigation (JPML) has ordered the transfer of a testosterone lawsuit* that names prescribing physicians among the defendants cited in the testosterone products MDL. To date, testosterone lawsuits consolidated as multidistrict litigation (MDL)** cited only pharmaceutical companies as defendants, according to court documents. This news update is provided by testosterone attorneys representing clients nationwide.
"Adding prescribing physicians to the defendant list is not entirely unprecedented, though most plaintiffs have chosen to pursue litigation only against the drug makers. However, the common facts -- allegations of stroke, heart attack and other health problems from testosterone drugs -- are strong enough to warrant inclusion in the MDL," explained James Onder of the Onder Law Firm.
Court documents reveal that plaintiffs opposed the transfer of their case to the testosterone lawsuit MDL. The JPML ruled that there were adequate common questions of fact with the other cases in MDL No. 2545, according to a Transfer Order. The common questions of fact include allegations that testosterone products have caused plaintiffs to suffer health conditions including heart attack, stroke, deep vein thrombosis, and pulmonary embolism, according to court documents.
The plaintiff in this recent case alleges that using Androgel, one testosterone replacement product, caused their loved one's fatal heart attack, according to court documents. The defendants in this case include AbbVie, the maker of Androgel, and also allege the prescribing physician of medical malpractice. Deeming the case has a significant overlap with the existing testosterone lawsuits, the case has been transferred to the Northern District of Illinois, according to court documents.
Based on court documents, men who have suffered from heart attack or stroke they allege was caused by testosterone replacement therapies such as Androgel, Testim, Androderm, and others, are among those who have filed 1,172 testosterone lawsuits that are now underway as MDL No. 2545 in Illinois. The testosterone lawsuit MDL is comprised of injury and death claims for plaintiffs taking any one of a long list of testosterone replacement therapies marketed by more than a dozen pharmaceutical companies including major pharmaceutical companies, such as AbbVie, Pfizer, Inc., Eli Lilly & Co., according to court documents.
Testosterone attorneys representing plaintiffs nationwide who have experienced heart attack, stroke, or another severe health condition and have a history of taking supplemental testosterone believe such persons may be entitled to real compensation by filing a testosterone lawsuit. Respected nationwide for its groundbreaking work in drug and product safety litigation against multi-billion dollar corporations, the Onder Law Firm's testosterone lawyers have committed their significant resources to providing expert legal representation to men and the family members of men who believe they may have grounds to file testosterone lawsuits. Individuals and family members of individuals who meet this description are entitled to a no-cost, no-obligation consultation through the firm's Androgel Testosterone Lawsuit Center website.
The Onder Law Firm welcomes testosterone lawsuit or other testosterone case inquiries from law firms in regards to handling them or working as co-counsel.
About The Onder Law Firm
Onder, Shelton, O'Leary & Peterson, LLC is a St. Louis based personal injury law firm handling serious injury and death claims across the country. Its mission is the pursuit of justice, no matter how complex the case or strenuous the effort. The pharmaceutical and medical device litigators at The Onder Law Firm have represented thousands of Americans in lawsuits against multinational conglomerates from products liability for manufacture of defective or dangerous products to deceptive advertising practices. Other firms throughout the nation often seek its experience and expertise on complex litigation. It is also a recognized leader in products liability cases such as window blind cord strangulation. The Onder Law Firm offers information from attorneys handling testosterone lawsuits at http://www.AndrogelTestosteroneLawsuitCenter.com.
*HOHOLEK, ET AL. v. ABBVIE, INC., ET AL., C.A. No. 2:14-00405
**In Re: Testosterone Replacement Product Liability Litigation - MDL No. 2545