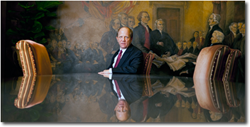 St. Louis, MO (PRWEB) October 21, 2014
Testosterone lawsuits consolidated as part of the multi-district litigation (MDL) in U.S. District Court in Northern Illinois will move forward this month with a Case Management Conference scheduled for Friday, October 24 at 9am, according to court documents. The case, MDL No. 2545 – In Re: Testosterone Replacement Therapy Products Liability Litigation, is progressing routinely, report attorneys handling testosterone claims for the Onder Law Firm.
Meanwhile, the nation's experts on drug safety convened to analyze the risks posed by testosterone drugs. A joint committee meeting at the FDA heard testimony from Mark Sigman, M.D., chief of urology at The Miriam and Rhode Island hospitals, co-director of the Men's Health Clinic at The Miriam Hospital, and chief of urology at The Warren Alpert Medical School of Brown University, according to a press release from the Miriam Hospital.* Dr. Sigman explained that initial testing for testosterone products only required that testosterone levels be heightened, but did not measure effectiveness at relieving symptoms nor measure risks. Dr. Sigman stated that the long term safety of testosterone replacement drugs can only be known through dedicated clinical trials.
At the conclusion of the meeting, FDA panel members recommended that the federal agency tighten the language on the product's label in order to specify that only persons with documented hypogonadism be indicated for testosterone replacement therapy treatment, according to an article in the New York Times.** In particular, the advisory group urged the FDA to reel in the number of prescriptions given for minor complaints like low libido or lack of energy, which may result from natural aging rather than a medical condition. The panel also took Dr. Sigman's advice and called for further testing to further elucidate the drug's likelihood to cause heart attack and stroke, as reported in the NY Times article.
Prescriptions for testosterone drugs have quadrupled over the past decade for 40-something men, according to the NY Times article. This surge in testosterone use can be partly traces to "Low-T" advertising, which tells men the drugs can result in increased energy and improved libido. These claims have not been evaluated. Persons who have filed testosterone lawsuits as part of In Re: Testosterone Replacement Therapy Products Liability Litigation say they chose to take testosterone after reading marketing literature which failed to adequately warn them of the risks associated with the products, such as heart attack and stroke, according to court documents. Claims include fraud, misrepresentation, and negligence based on failure to warn consumers of accompanying risks.
According to court documents accessed on October 20, 2014, 328 distinct testosterone lawsuits have been filed as part of the multi-district litigation. Originally, this case included only persons who had taken Androgel testosterone, marketed by AbbVie, and was referred to as In Re: Androgel Products Liability Litigation. However, based on court documents filed on June 6, 2014, the cases were centralized for all testosterone replacement products regardless of manufacturer. Other drug makers now facing litigation for their testosterone products include Auxilium Pharmaceuticals, Abbott Laboratories, Eli Lilly and Company, Actavis PLC, Endo Pharmaceuticals, and Pfizer, Inc, among others.
Attorneys accepting testosterone lawsuit claims believe that men and the families of men who experienced heart attack or stroke while taking testosterone may be entitled to real compensation through testosterone lawsuits. Nationally renowned for its superior work in drug and product safety litigation against multi-billion dollar corporations, The Onder Law Firm has committed its significant resources to providing expert legal representation to men and the family members of men seeking to file testosterone lawsuits. Individuals and family members of individuals who meet this description are entitled to a no-cost, no-obligation consultation through the firm's Androgel Testosterone Lawsuit Center website.
The Onder Law Firm welcomes testosterone lawsuit or other testosterone case inquiries from law firms in regards to handling them or working as co-counsel.
About The Onder Law Firm
Onder, Shelton, O'Leary & Peterson, LLC is a St. Louis based personal injury law firm handling serious injury and death claims across the country. Its mission is the pursuit of justice, no matter how complex the case or strenuous the effort. The pharmaceutical and medical device litigators at The Onder Law Firm have represented thousands of Americans in lawsuits against multinational conglomerates from products liability for manufacture of defective or dangerous products to deceptive advertising practices. Other firms throughout the nation often seek its experience and expertise on complex litigation. It is also a recognized leader in products liability cases such as window blind cord strangulation. The Onder Law Firm offers information from attorneys handling testosterone lawsuits at http://www.AndrogelTestosteroneLawsuitCenter.com.
*eurekalert.org/pub_releases/2014-10/l-cou101414.php
**"FDA Panel Backs Limits on Testosterone Drugs", 9/17/14, nytimes.com/2014/09/18/health/testosterone-drugs-fda.html