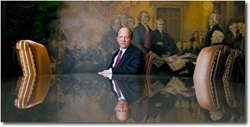 The Onder Law Firm has committed its significant resources to providing legal representation for persons wishing to file testosterone lawsuits.
St. Louis, MO (PRWEB) October 15, 2014
In a unanimous vote, members of multiple FDA advisory panels recommended that significant changes be made to the drug label for testosterone replacement products such as Androgel in order to limit who may receive prescriptions for supplemental testosterone, according to an article in the New York Times.* Attorneys handling testosterone lawsuits at The Onder Law Firm provide full testosterone lawsuit information and news at AndrogelTestosteroneLawsuitCenter.com.
The expert panel, which included members of the Bone, Reproductive, and Urologic Drugs Advisory Committee and the Drug Safety and Risk Management Advisory Committee, has called for significant limitations to be placed on who is indicated for testosterone replacement therapy, according to the article. Specifically, the advisory group recommended that the FDA crack down on the use of testosterone in patients with age-related complaints like low libido or lack of energy. The group also determined the drug requires further testing for both its health benefits and its safety risks, as reported in the NY Times article.
If the FDA puts these restrictions into place, the new labeling would possibly put a damper on the rapidly-growing testosterone industry, according to the NY Times article. Far fewer men may be prescribed the drug, marketing would be restricted to indicated uses of the drug, and insurance companies would likely limit their coverage of testosterone, according to the NY Times article.
Testosterone replacement therapy has been under investigation by the FDA this year, following two Drug Safety Communication warning of potential risks for arterial** and venous*** blood clots arising from testosterone replacement therapy. In light of these risks, the new labeling changes are an attempt to limit the number of prescriptions given to healthy men. According to the NY Times article, federal regulators have stated that the benefits of testosterone therapy for this demographic are unproven.
According to court documents from September 14, 2014, 321 distinct claims have been entered as a part of MDL No. 2545 – In Re: Testosterone Replacement Therapy Products Liability Litigation on behalf of men who suffered or died as a result of stroke or heart attack while taking testosterone drugs.
Known across the country for its work in drug and product safety litigation against enormous corporations, The Onder Law Firm has committed its significant resources to providing legal representation for persons wishing to file testosterone lawsuits. Men who suffered from a heart attack or stroke while using testosterone replacement therapy may have grounds to file a testosterone lawsuit. Individuals and family members of individuals who meet this description are entitled to a no-cost, no-obligation consultation through the firm's Androgel Testosterone Lawsuit Center website.
The Onder Law Firm welcomes testosterone lawsuit or other testosterone case inquiries from law firms in regards to handling them or working as co-counsel.
About The Onder Law Firm
Onder, Shelton, O'Leary & Peterson, LLC is a St. Louis based personal injury law firm handling serious injury and death claims across the country. Its mission is the pursuit of justice, no matter how complex the case or strenuous the effort. The pharmaceutical and medical device litigators at The Onder Law Firm have represented thousands of Americans in lawsuits against multinational conglomerates from products liability for manufacture of defective or dangerous products to deceptive advertising practices. Other firms throughout the nation often seek its experience and expertise on complex litigation. It is also a recognized leader in products liability cases such as window blind cord strangulation. The Onder Law Firm offers information from attorneys handling testosterone lawsuits at AndrogelTestosteroneLawsuitCenter.com.
*"FDA Panel Backs Limits on Testosterone Drugs", 9/17/14, nytimes.com/2014/09/18/health/testosterone-drugs-fda.html
**fda.gov/safety/medwatch/safetyinformation/safetyalertsforhumanmedicalproducts/ucm384225.htm
***fda.gov/drugs/drugsafety/ucm401746.htm