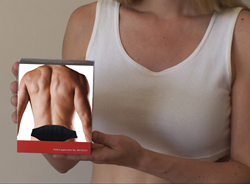 Users of Dr. Allen's Device for Prostate Care achieve a sensational improvement of their general health and overall well-being.
London, GB (PRWEB) February 03, 2014
A recent study turns men's attention to the side effects of testosterone saying that in the 3 months after the start of testosterone therapy, the risk of a myocardial infarction (MI) overall was increased by 36%, and for those aged 65 years and older, the risk of MI was more than twofold higher. Thus, the testosterone myth shouldn't be ventilated any longer. Men can find an effective solution strengthening male health and potency by using Dr. Allen's Device that improves prostate gland condition naturally, Fine Treatment reveals.
'Another Study Links Testosterone Therapy to MI Risk' article, dated January 30, 2014, quotes Dr. Steven Nissen (Cleveland Clinic, OH) saying that testosterone therapy is heavily marketed with direct-to-consumer advertising, the drug branded as "a fountain of youth" to treat low energy levels and improve sexual function in men. As a result, he believes that millions of men might be taking testosterone therapy, and yet the long-terms risks, including cardiovascular risks, have never been fully characterized.
"The main function of the prostate gland is to secrete a fluid that combines with sperm and other fluids to form semen. When the prostate is affected by inflammation or starts to enlarge, it inevitably compromises male potency," comments Dr. Simon Allen. "A notion that an intake of testosterone may help men with their sexual performance is nothing more than a myth. The danger is that testosterone-containing drugs accumulate in the body over time, potentially leading to life-threatening complications."
The New York Times article, 'Men's Use of Testosterone on the Rise' by A. O'Connor, has stated: "The number of middle-aged men with prescriptions for testosterone is climbing rapidly, raising concerns that increasing numbers of men are abusing the powerful hormone to boost their libidos and feel younger." Another article, 'A Push to Sell Testosterone Gels Troubles Doctors', quotes Dr. Eric Topol, a cardiologist and chief academic officer at Scripps Health in San Diego, reporting "Testosterone medicines come with a risk of coronary artery disease."
In contrast, Dr. Allen's therapeutic device helps men to recover from prostate problems by improving local blood circulation at the capillary level. The treatment with Dr. Allen's Device is absolutely harmless and gives outstanding results. Here is an explanatory video: http://www.youtube.com/watch?v=Sx1xfwwA5KI.
"Dr. Allen's Device treats disturbing signs of BPH and chronic prostatitis effectively, and improves the condition of the prostate gland naturally. Our research findings are supported by abundant user feedback," notes Dr. Simon Allen. "Users of Dr. Allen's Device for Prostate Care achieve a sensational improvement of their general health and overall well-being."
For details, please visit Fine Treatment at http://finetreatment.com/bph-treatment-prostate-enlargement.
About Dr. Simon Allen and Fine Treatment:
With over four decades of experience, Dr. Simon Allen, MD, PhD, Academician, member of the ATA, specialises in internal medicine. He has treated a wide range of chronic diseases, including patients after a heart attack, with kidneys problems, including kidney stones disease, prostate and spine conditions, as well as metabolic disorders. Fine Treatment ensures international availability of Dr. Allen's Devices for chronic prostatitis and BPH treatment, coronary heart disease, dissolving kidney stones, as well as for upper and lower back pain treatment and sciatica relief.