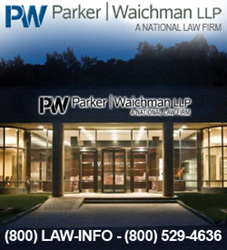 New York, New York (PRWEB) February 28, 2014
Parker Waichman LLP, a national law firm dedicated to protecting the rights of victims injured by defective drugs and medical devices, notes that on the U.S. Food and Drug Administration (FDA) issued a "Drug Safety Communication" on Jan. 31, 2014 announcing that it is investigating the risk of stroke, heart attack, and death in men who take FDA-approved testosterone products. In its Safety Communication, the FDA indicated that it is also monitoring cardiac risks and risks of death related to testosterone for approved uses and is re-assessing these risks following publication of two studies. Both studies suggest increased cardiovascular events are present in men prescribed and receiving testosterone therapy. Parker Waichman LLP is also evaluating claims involving cardiac injuries tied to testosterone products such as AndroGel.
According to consumer advocacy group, Public Citizen, drugs prescribed to treat low testosterone should also carry increased warnings about these cardiovascular risks, and has petitioned the agency to add a so-called "Black Box" warning to the drugs' labels, according to a Feb. 25. 2014 Reuters report. The black box is the agency's most serious warning
The FDA indicated that no FDA-approved testosterone product is approved for use in men who are diagnosed with low testosterone that is not associated with a medical condition, such as the testicles genetic failure to produce testosterone, the Reuters report indicated. FDA-approved testosterone formulations include the topical gel; transdermal patch; buccal system, which is applied to the upper gum or inner cheek; and injection and include products such as AndroGel, Androderm, Axiron, Bio-T-Gel, and Delatestryl. Symptoms of low testosterone may include loss of libido, depression, a decrease in muscle mass, and fatigue. Testosterone products are not approved for use in men diagnosed with so-called "Low-T" who are not diagnosed with a medical condition, which may also include failure of the testicles to produce testosterone due to chemotherapy and problems with those brain structures controlling testicular production.
Two observational studies prompted the FDA to reassess the cardiovascular safety of testosterone therapy. The first, published in the Journal of the American Medical Association (JAMA) in November 2013 involved older men and suggested increased risk of stroke, heart attack, and death in men prescribed testosterone therapy. The second study, published in Journal PLoS, also suggested increased risk of heart attack in older men, and in younger men with pre-existing heart disease. There was no increased risk reported in younger men with no history of heart disease. In older men, the risk was seen regardless of heart disease history.
Public Citizen indicated that its petition was based on mounting evidence pointing to cardiac risks indicated in studies since 2010, as well as a recent published analysis of 27 studies that went back at least two decades, the Reuters report indicated. The advocacy group also indicated that of 27 studies, the 14 that were not industry funded revealed what it described as a "highly significant" increased risk for cardiac injury.
Low-T drugs have been associated with serious side effects that include pulmonary embolism, deep vein thrombosis (DVT), stroke, heart attack and other cardiovascular injuries, and death. Mounting research pointing to significant adverse reactions, the ongoing upward sales trend associated with these products, and mounting lawsuits that allege heart attacks following use of these FDA-approved Low-T medications (Case Nos: 1:14-cv-00776, 1:14-cv-00780, 1:14-cv-00777, and 1:14-cv-00772), have prompted Parker Waichman LLP to evaluate claims associated with these products.
Since the FDA's announcement four AndroGel lawsuits were filed in U.S. District Court, Northern District of Illinois. All of the lawsuits similarly allege that the use of AndroGel caused the men bringing the lawsuit—all allege no prior history of heart disease—to suffer heart attacks, heart failure and stroke (Case Nos: 1:14-cv-00776, 1:14-cv-00780, 1:14-cv-00777, and 1:14-cv-00772).
If you or someone you know has taken a Low-T medication, you may have valuable legal rights. To discuss your case with one of our lawyers, please view our Testosterone lawsuit website or call 1-800-LAW-INFO (1-800-529-4636).
Contact:
Parker Waichman LLP
Gary Falkowitz, Managing Attorney
1+ (800) LAW-INFO
1+ (800) 529-4636
http://www.yourlawyer.com