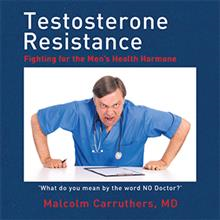 a book that explains a new theory that like insulin in diabetes, testosterone resistance is more common than lack of the hormone.
(PRWEB) May 11, 2016
Those men who are being denied the testosterone treatment they need because of out-dated ideas, has prompted author Malcolm Carruthers, MD in writing "Testosterone Resistance: Fighting for the Men's Health Hormone," (published by Xlibris UK) a book that explains a new theory that like insulin in diabetes, testosterone resistance is more common than lack of the hormone.
This is a controversial account of why, because of the barriers to testosterone action in the body, men can have normal levels of testosterone, but still have life, love and health-wrecking symptoms of testosterone deficiency which need treatment. This deficiency is increasingly being linked to common and serious medical conditions such as obesity, diabetes, heart and circulatory disorders and even Alzheimer's disease. However, in the majority of cases, they are often denied of this because of the lack of understanding of the medical profession and other authorities regulating the treatment.
"My new theory of testosterone resistance revolutionizes the diagnosis and treatment of testosterone deficiency," Carruthers points out. "It affects the health of millions of men in today's society world-wide and the future of preventive medicine."
Carruthers has been treating patients with testosterone deficiency for 30 years. He hopes that "Testosterone Resistance" will make readers realize that testosterone resistance treatment is safe and beneficial for men.
"Testosterone Resistance"
By Malcolm Carruthers, MD
Hardcover | 8.5 x 8.5in | 174 pages | ISBN 9781514449103
Softcover | 8.5 x 8.5in | 174pages | ISBN 9781514449097
E-Book | 174 pages | ISBN 9781514449110
Available at Amazon and Barnes & Noble
About the Author
Founder and chief medical consultant to the Centre for Men's Health, Professor Malcolm Carruthers is a highly respected men's health specialist and world authority on testosterone deficiency. He is an adjunct professor at the Alzheimer's and Aging Department, Edith Cowan University, Western Australia. He is also a fellow of the Royal College of Pathologists and a life member of the Royal College of General Practitioners (RCGP). He is the president of the Society for the Study of Androgen Deficiency (Andropause Society), a member of the British Cardiovascular Society, the European Academy of Andrology, the International and European Societies for the Study of the Aging Male and past president of the Society for Psychosomatic Research. Alongside over 120 refereed papers in medical journals and editorials in the American Heart Journal and The Lancet, he is the author of eight other books.