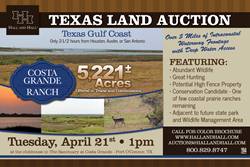 A complete due diligence package on both properties is available now, just give us a call.
Eaton, CO (PRWEB) March 27, 2015
Hall and Hall Auctions will be managing two sizable Texas auctions in April 2015. Costa Grande Ranch is a rare Texas Gulf Coast offering encompassing 5,221± acres, with more than five miles of frontage on the Intracoastal Waterway. It will be auctioned Tuesday, April 21st at 1:00 pm. The second auction, Char-Lin Ranch, presents a unique acquisition opportunity in Corsicana, Texas, with 1,189± acres of pastureland, 135± acre private lake, extensive ranch improvements, and a 6,200 sq. foot home. It will be auctioned Thursday, April 23rd at 1:00 pm. Each property is offered in multiple tracts or in its entirety. Diligence packages are available now. For more information, visit http://hallhall.com/ranches-for-sale/pstatus/upcoming-auctions-52 or call 970-716-2120.
The Costa Grande Ranch is located in Southern Calhoun County, once home to multiple large coastal prairie cattle operations. Over the years, many of the large tracts of land have been divided, developed, or placed into conservation easements. Recently, the adjacent Powderhorn Ranch was acquired by the State of Texas to be developed into a State Park and Wildlife Management Area. Costa Grande Ranch is one of the last remaining large parcels available in the area and home to a diverse population of deer, hogs, and 400+ species of bird, making it ideal for a sportsman or conservationist. It is located 2.5 hours from Houston, Austin and San Antonio. An information date is set for April 7th from 1:00 pm - 3:00 pm at the clubhouse in The Sanctuary at Costa Grande.
"Costa Grande Ranch provides easy access to Shoalwater Bay, Dewberry Island and deep water," said Scott Shuman of Hall and Hall Auctions. "It is unencumbered by conservation easements, which is rare in this part of Texas."
Char-Lin Ranch is unique to Corsicana, Texas because of its large size and regular shape. The main home is the centerpiece of the property and perched atop a hill that offers panoramic views of the pastures, the lake, and surrounding countryside. The four-level home has a pool & spa with lap swimming lanes, a trophy room loft, and four fire places. The estate also includes two additional homes. It is a productive ranch with fine cattle and horse improvements all located within an hour of Dallas/Fort Worth. An information date is set for April 9th - 2:00 pm - 4:00 pm on the property.
"We are extremely excited about these two unique Texas Auctions," said Shuman. "A complete due diligence package on both properties is available now, just give us a call."
About Hall and Hall:
Hall and Hall was formed in 1946 as an agricultural mortgage company, and has since branched out into farm and ranch brokerage, auctions, management, consulting, retained search and appraisals. Hall and Hall has emerged as one of the largest full-service farm and ranch real estate firms in the nation with annual sales approaching $400 million, one million+ acres of land under management, and a loan portfolio of more than $500 million. A unique partnership between its many offices and multiple affiliates ensures that the client receives local knowledge and a high level of personal service as well as the international perspective needed to make informed acquisition, financing and management decisions.