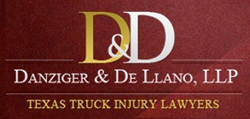 We work on what is known as a contingency basis, and we get paid a portion of whatever we win for you. If we don't win your case we don't get paid.
Houston, TX (PRWEB) March 20, 2014
Texas truck crash lawyers Danziger & De Llano have just finished putting the finishing touches on an update to their informative website, TexasTruckInjuryLawyers.com. The truck injury lawyers have added a frequently asked questions section to the user-friendly website, as well as more information about their legal services for injured motorists.
Since the day they first opened their law firm, Paul Danziger and Rod De Llano have committed their professional lives to helping those who have been injured in truck accidents. Those who contact Danziger & De Llano find that the attorneys at the firm are not only knowledgeable about compensation from truck manufacturers; they are also caring, compassionate and deeply dedicated to providing the best legal representation possible.
As the new FAQ section explains, the most important thing people should do after being involved in an accident with a truck is to take good care of themselves. For example, they should make an appointment with their physician, even if they don't feel they have been significantly injured.
Although the truck company's lawyers and insurance company may want to speak with the injured parties, the FAQ section strongly advises against this.
"Do not talk to them or sign any papers that they send to you. Do not accept any kind of payout from them. Gather names of any witnesses that have seen the accident," the FAQ section advises, adding that people should also keep a record of all of their expenses and medical treatments.
The new FAQ section of the website also addresses a common question that victims of truck accidents have: how much it will cost them to file a truck accident lawsuit. At Danziger & De Llano, people do not pay a consultation fee or any expenses for their services unless the firm's attorneys win the case.
"We work on what is known as a contingency basis, and we get paid a portion of whatever we win for you. If we don't win your case we don't get paid."
About Danziger & De Llano:
Danziger & De Llano is a personal injury law firm that has earned a national reputation for providing powerful, passionate legal representation on behalf of their clients who have been injured in truck accidents. The attorneys at the firm know every aspect of federal law as it relates to truck driver training and conduct, trucks and their operation and maintenance, as well as all of the ways that the truck companies may try to get around these rules. For more information, please visit http://www.texastruckinjurylawyers.com/