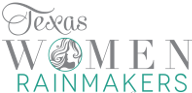 Houston, Texas (PRWEB) September 17, 2014
Seven accomplished female lawyers are hosting the inaugural Texas Women Rainmakers Conference on Friday, September 19, 2014 at The St. Regis Hotel in Houston, Texas. The event aims to break the mold of the typical Continuing Legal Education (CLE) events that are rarely fun, interesting, or helpful to one's day-to-day career struggles. Embracing the motto, "Practicing Law with Our Hair Down," the conference will focus on providing skills necessary to better female trial lawyers professionally in all aspects, not just the courtroom.
The brainchild of Sofia Bruera, Partner of Pierce Chapman Skrabanek Bruera, PLLC, the exclusively female conference boasts a Steering Committee from across the state who have made names for themselves in and out of the courtroom including Stacey Burke, Erin Copeland, Christina Feller, Chelsie Garza, Caryn Papantonakis, and Shalimar Wallis. Headline sponsor Robin Young-Ellis, CSSC chose to support the group's mission of educating and encouraging female trial lawyers as she specializes in settlement planning that includes structured settlements and knows the challenges of a male-dominated industry.
"The ability to connect in person with Texas women of all career levels in our industry, and tap into networks of talented and motivated people who want to help each other succeed, is the reason we feel that Texas Women Rainmakers was needed and will be so successful. Our plan is to use strategic events to bring the dispersed community of female lawyers in Texas together for career development and networking," adds Curriculum Committee Co-Chair Erin Copeland.
Tickets are $50.00 for the full day event featuring Keynote Speakers Karen Walrond and Laura Lopez. The State Bar of Texas has authorized 5.25 hours of continuing legal education credit, with 0.75 of those hours counting toward lawyer ethics hours. Topics include navigating gender bias in the workplace and negotiating strategies for yourself and your client. The conference will conclude with a networking happy hour. Tickets may be purchased via EventBrite.
Texas Women Rainmakers is a 501c3 non-profit (status pending) that charges no membership fees, and asks for no political donations or contributions aside from covering its event costs. Its goals include:
1. Empowering women to become decision makers: To inspire and equip female attorneys with the knowledge and skills necessary to step into leadership roles and become decision makers.
2. Professional networking: To provide networking opportunities for women at every career stage and every firm size to build personal and professional relationships by connecting with other female attorneys.
3. Promoting women lawyers: To teach women how to promote themselves both within their own law firms and in the greater legal profession.
4. Sharing knowledge and mentoring: To learn from and with women lawyers from diverse backgrounds about what critical skills are necessary and how these skills are best acquired.
5. Knowing our value: To teach female lawyers how to be true to themselves, be optimistic, take risks, chart their own course, have a vision, and promote themselves in order to achieve their potential and develop their professional practices.
6. Education: To stimulate the personal and professional growth of members by providing quality continuing education to female attorneys from a wide variety of practice areas on current legal issues with respected and exciting speakers.