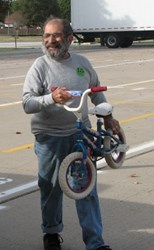 Plano, TX (PRWEB) November 02, 2013
The Plano community is invited to come out for Texas Recycles Day Celebration to recycle bikes, shred documents, operate the arm of the recycling truck, participate in a community art project, and enjoy giveaways and more.
All bikes in all conditions will be accepted and will be donated to Bikes for Tykes, an organization who refurbishes bikes for kids in need and Bicycle Recycle, an organization dedicated to giving bikes to people needing transportation for work.
DFWshredding.com, the secure on-site shredding company will also be available to shred boxes of documents, with a two box limit per household.
In addition, this is the last day to bring all completed sections for the community project, bottle mural which will be assembled on-site and installed at the Plano Animal Shelter. The bottle cap mural is a fantastic project for groups such as scouts or youth groups. The mural will help to promote awareness about recycling and homeless animals.
While recycling or shredding, please visit with the City of Plano's customer service team to ask questions, request a second recycle cart free and learn how to earn a free year of waste services through the Gold Star Cart Program. To learn more, please visit http://www.recyclerightplano.com or call 972-769-4150.
About City of Plano- Sustainability & Environmental Education
The City of Plano's Sustainability & Environmental Education Division helps the community learn more about protecting the environment, conserving resources and reducing the impact on the earth through programs, presentations and workshops.
About NALA™
The NALA (National Association of Local Advertisers), a small business association, is for local business owners offering new online advertising & marketing tools, great business benefits, education and money-saving programs, as well as a charity program.
PR Contact: Tiffani Tendell
805.650.6121 x361
ttendell(at)starkartthenala(dot)com