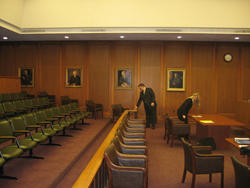 We are very proud of this important decision
Dallas, Texas (PRWEB) March 30, 2015
Burdette & Rice is proud to announce an important legal victory at the Fort Worth Court of Appeals. The Court of Appeals for the Second District of Texas (Fort Worth) in Cause No. 02-14.00170-CV, issued a thirteen-page published opinion dated February 12, 2015, in which the Court ruled favorably for a Burdette & Rice client in the appeal of a matter involving the issue of whether the filing of a will contest violated an in interrorem (no contest) clause in a Will.
"We are very proud of this important decision," said Elliott Burdette, Managing Director of Probate Litigation at Burdette and Rice. "As one of the top law firms in Texas focusing on will contests, we were very gratified at the Court's decision." However, this result is not indicative of future results.
For more information on the firm's services with respect to will contests, please visit http://www.dallasprobateattorneys.com/will-contests/. For a copy of the decision itself, please visit http://law.justia.com/cases/texas/second-court-of-appeals/2015/02-14-00170-cv.html.
About Burdette & Rice, PLLC
Burdette & Rice, PLLC is a top Dallas probate law firm, with lawyers dedicated to listening to their clients, being fully present to them, and advocating their clients' positions in the simplest and most persuasive way possible. The law firm employs some of the top probate and estate lawyers in Dallas, Texas. Clients come to Burdette & Rice to contest a will in Texas, work on complex inheritance litigation and disputes, and to litigate disputes over powers of attorney, guardianship and trustee issues all based on Texas law.
Burdette & Rice, PLLC
Media Relations
http://www.dallasprobateattorneys.com/
972-991-7700