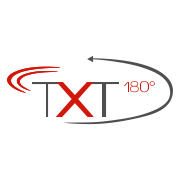 St. George, UT (PRWEB) July 28, 2016
TXT180 has a whole new look and feel backed by the same great features and support. To go along with the recently redesigned website and logo, the customer dashboard has been updated with a new look and some added features! TXT180 customers will enjoy the same features and functionality with a few upgrades. The new text message software version 3.0 is designed to be very mobile friendly and easy-to-use on any device. Customers can easily login and manage their text marketing account settings and sms messaging from any smartphone, tablet, or computer.
A couple of notable upgrades to the sms marketing customer dashboard include the option to collect and store email addresses of customers and enhancements to easily carry on a two-way conversation with individual clients. The new Inbox automatically threads incoming and outgoing messages from a single number into a simple smartphone graphic that looks very similar to the way messages are shown on a smartphone messaging application. A dentist office can send out an appointment reminder to Jenny letting her know she has an appointment tomorrow at 3:00 PM, if Jenny can't make the scheduled time she can simply reply saying, "I need to reschedule". The dentist can reply with other open appointments or give Jenny a call directly to set a new appointment time. Any messages to or from Jenny will continue to be added to the same message thread in the inbox.
The new TXT180 version 3.0 software has a more comprehensive home screen. The main dashboard gives the TXT180 customer a quick overview of any new inbox messages received since the last login and the number of text blast messages scheduled for today. The new home screen also has quick links to add keywords, manage groups and contacts, or to schedule a free sms coaching call. In addition, users can see subscriber statistics and message balance and usage statistics. Quick links make it easy to buy messages or upgrade the plan without navigating through several clicks on the left-hand navigation.
Text message marketing has evolved to be the most effective type of marketing. SMS statistics show that 98% of texts are read and 90% of those within 3 minutes. See SMS marketing uses by industry on the TXT180 Blog to get ideas for any business! A company that sends a text blast out with a special coupon offer can reach hundreds or thousands of interested clients within a matter of minutes. SMS marketing is 100% opt-in based so every marketing dollar spent on text marketing is being used to reach people that have already asked to receive the message. SMS statistics also indicate that the redemption rate on a mobile coupon is ten times greater than that of printed ads. SMS messaging is a great way to conduct polls, get customer feedback, send appointment reminders, keep in touch with a church congregation, and much more. Visit TXT180.com and give it a try for only $1 for the first month!
About TXT180.com
TXT180.com is a St. George, UT company that features an in-house, U.S. based sales and customer support staff. TXT180 follows all text marketing laws and regulations with strict privacy and security measures to protect every account. A white-label reseller program is also available for entrepreneurs to start their own text marketing business.