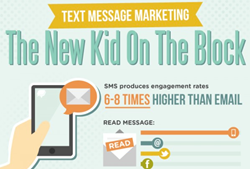 Jamestown, NY (PRWEB) February 23, 2014
SlickText.com, a leader in the world of text message marketing, has released a new infographic entitled "Text Message Marketing: The New Kid On The Block."
Text message marketing has become "all the rage" with businesses around the world as text messaging has risen to become one of the core methods by which people communicate. Also known as SMS marketing, text marketing provides marketers with a fast way to speak to a target audience of subscribers who have elected to receive their messages.
This new infographic by SlickText highlights some fresh text message marketing statistics for 2014. Some of these stats include:
SMS marketing produces engagement rates 6 to 8 times higher than email.
90% of mobile users who participated in an SMS loyalty program felt they had gained value from it.
SMS coupons are 10 times more likely to be redeemed and shared than newspaper coupons.
The infographic showcases many eye-opening stats that will get any business owner thinking about text message marketing if they aren't already using it.
The original infographic can be viewed on the SlickText.com blog.