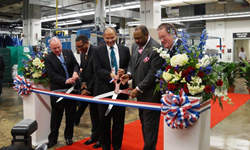 After touring the plant today, it is obvious that this accomplishment by Western State Design and R.W. Martin is in fact an engineering marvel of its own.
Richmond, VA (PRWEB) March 31, 2014
On March 13, 2014, the completely remodeled VHA Textile Care Processing Facility at the Richmond VA Medical Center was unveiled at a grand opening. This was the first state-of-the-art steamless laundry facility installed for the federal government. All of the laundry equipment installed was manufactured in the USA.
The manufacturers pride themselves in employing many US veterans from the design phase to manufacturing and shipping. Additionally, Western State Design furnished the specified equipment and R.W. Martin completed the facility renovation and installed all the equipment. The facility processes millions of pounds of laundry every year for the medical center and several other hospitals and military installations.
The members of the VA Quality Assurance team, who oversee all laundry projects, were present for the ribbon cutting ceremony. When asked about the new system and renovation, Bruce Jensen offered, "We went from the stone age to the 21st century." Anthony Tura concurred, "It's just amazing to see how far the systems have advanced." Much of the production work that was previously completed manually is now automated. The new equipment cleans more laundry in less time consuming less utilities and water. The total project cost was in excess of $8M.
The new equipment also provides a safer environment and is ergonomically designed to reduce the impact of repetitive motion involved in laundry processing tasks. Ken Tyler, former Director Textile Care Operations, Department of Veterans Affairs, stated, "After touring the plant today, it is obvious that this accomplishment by Western State Design and R.W. Martin is in fact an engineering marvel of its own." Tyler oversaw the original laundry's installation back in 1977. The latest upgrade replaces conventional equipment which was installed in 1991.
The renovated facility and equipment will process all laundry and uniforms from the Hunter Holmes McGuire VA Medical Center. Additionally, soiled linen is delivered for processing from Joint Base Langley–Eustis, Camp Peary, Fayetteville North Carolina Military Bases, Fort Eustis, Fort Lee Military Base, and Hampton VA Medical Center.
Laundry exchange carts are unloaded from the delivery trucks and the soiled linen is weighed and then sorted into weigh carts.
An E-Tech soiled overhead semi-automatic monorail conveyor system loads one of five overhead storage monorails. The monorail automatically delivers soiled linen to the Milnor 6-module, 150 lb capacity Continuous Batch Washer (CBW). This CBW has PulseFlow technology which has reduced the water consumption from 2.5 gallons per pound to 0.38 gallons per pound of laundry processed.
The CBW system includes a Milnor single-stage 56-bar press/extractor and four 300 lb Milnor system dryers which automatically discharge onto a belt conveyor.
The conveyor then loads a Gardner sling cart. The slings are then elevated to the work station rails on the clean side of the laundry. Additionally, two Milnor 600 lb. washer-extractors are matched with one 600 lb. Consolidated natural gas dryer.
Smaller loads including uniforms, rewash and specialty linen are washed in three Milnor 100 lb washer-extractors that compliment three 120 lb Cissell dryers.
There are two Chicago Dryer Century 2-roll 52 inch diameter self-contained thermal heated ironers. Each ironer is paired with a Cascade separator, a King Edge feeder and a Skyline large piece folder/stacker. A Chicago, Blanket Buster feeds, folds and stacks thermal blankets. Uniforms are all finished in a Colmac steamless self-contained garment tunnel finisher.
The refurbishing of the building included new interior mechanical plumbing and electrical systems. Also, a new glass barrier wall separating the clean and soiled linen production areas was constructed. The existing air handling system was upgraded and balanced to meet air change requirements.
The master of ceremonies for the event was Albert Boyd, Textile Care Manager of this newly renovated facility. Congratulatory remarks were made by John A. Brandecker, Director of the Hunter Holmes McGuire VA Medical Center and Steven C. Parrish, program manager for the Department of Veterans Affairs Office of the Deputy Under Secretary for Health for Operations and Management.
Aubrey Weekes, Director of Environmental Programs Service Office of the Deputy Under Secretary of Health for Operations & Management, attended the opening ceremony and offered his thanks to the Richmond VA staff.
Following the ribbon cutting ceremony the attendees toured the newly renovated laundry.
About Western State Design
Western State Design (WSD) has provided innovative laundry solutions to meet clients' demands since 1974, providing design and construction services, commercial washer and dryer sales, parts and service. WSD brings worldwide expertise to its customers, with clients and projects throughout North and South America, Europe, and Asia. WSD's total solution approach has enabled them to become one of the world's largest companies in the laundry industry. Visit WSD online at http://www.westernstatedesign.com or call toll free at 800-633-7153.
About R.W. Martin & Sons, Inc.
Centrally located in N.E. Ohio, R.W. Martin & Sons, Inc. recently celebrated its 45th year anniversary serving the industrial uniform rental, commercial linen supply and institutional, hospitality and health-care on-premise laundry markets throughout North America and beyond since 1968. What started as the core business philosophy is still true today: provide top quality products with outstanding service and combine that with trust and good business ethic. R.W. Martin provides an array of textile care equipment systems, including integrated material handling systems and stand alone washing, drying, finishing and auxiliary plant support equipment. To learn more visit http://www.rwmartin.com or call 800-635-4363.