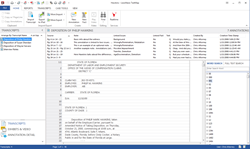 For law firms, time savings remain a foundation of billing their legal work efficiently, profitably and in good keeping as careful stewards of client legal budgets.
Raleigh, NC (PRWEB) April 07, 2015
LexisNexis® Legal & Professional today announced the release of a new version of its TextMap® transcript management software, which features a simplified design and navigation that delivers significant time savings for litigation professionals.
"In the legal profession, time is often literally money and the development of our TextMap 8 product was focused on making the transcript management tool even easier to use," said Steve Ashbacher, vice president of litigation solutions, part of the LexisNexis software division. "Our testing indicates the average number of 'clicks' needed to carry out nine of the most common functions in TextMap decreased by more than 36 percent from the prior version of the software."
The TextMap solution manages transcripts and deposition videos in an electronic format. The software enables litigation teams to create a searchable database of electronic transcripts from case depositions, examinations and other proceedings. The TextMap product is widely used by law firms of all sizes because of its ease-of-use, its ability to link multiple exhibits to transcripts and its robust reporting capabilities.
"For law firms, time savings remain a foundation of billing their legal work efficiently, profitably and in good keeping as careful stewards of client legal budgets," said Ashbacher. "The new version of our TextMap software includes improved search tools, faster exhibit-linking within transcripts, and improved options for creating and sharing PDF reports."
Some of the simplified design features that help users manage transcripts more efficiently in the TextMap 8 solution include:

Modern look. The software now has a modern look and feel consistent with the familiar look and style of the Microsoft® Office 2013 productivity suite;
Quick access. The new version introduces a quick-access toolbar that allows users to perform common tasks more quickly, such as printing, importing or exporting transcripts;
Hover tips. When hovering the cursor above any of the toolbar icons, the new version of the software will display short messaging and tool tips for users;
Customization. The new release allows users to customize the ribbon according to the most frequently used functions for their unique purposes.
For more information or to download a free trial of the TextMap product, please go to: http://www.lexisnexis.com/litigation-textmap. There is also a LexisNexis TextMap app for iPad® available from the Apple iTunes store.
About LexisNexis Legal & Professional:
LexisNexis Legal & Professional is a leading global provider of content and technology solutions that enable professionals in legal, corporate, tax, government, academic and non-profit organizations to make informed decisions and achieve better business outcomes. As a digital pioneer, the company was the first to bring legal and business information online with its Lexis® and Nexis® services. Today, LexisNexis Legal & Professional harnesses leading-edge technology and world-class content to help professionals work in faster, easier and more effective ways. Through close collaboration with its customers, the company ensures organizations can leverage its solutions to reduce risk, improve productivity, increase profitability and grow their business. LexisNexis Legal & Professional, which serves customers in more than 175 countries with 10,000 employees worldwide, is part of RELX Group plc, a world-leading provider of information solutions for professional customers across industries.
LexisNexis helps its clients gain increased control of their litigation workflow with flexible, integrated solutions for early data assessment, processing, review and seamless chain of custody. LexisNexis® Early DataAnalyzer, LAW PreDiscovery™, Concordance®, Concordance® Evolution, CaseMap®, TextMap® and Sanction® are the only solutions on the market that work together for complete support of litigation management and can be offered in a hosted environment for the flexibility and support any case demands.