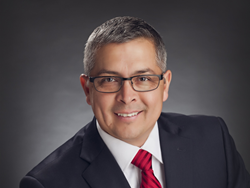 "Michell's desire to foster economic development among tribes across the country and, in the process, support the achievement of financial sovereignty, aligns perfectly with TFA's mission."
El Segundo, CALIF. (PRWEB) October 25, 2016
TFA Capital Partners, Inc. ('TFA') announces the appointment of Michell Hicks, former Principal Chief of the Eastern Band of Cherokee Indians ('EBCI'), to its Tribal Board of Advisors ('the Board'). The Board comprises tribal leaders who are national proponents of tribal economic sovereignty and tribal organizational leadership from across the United States. It draws from diverse backgrounds in business and government, and provides TFA and its clients with unique insights and experience of tribal matters across Indian Country.
During his nearly 30-years of service with the ECBI, Hicks led the 15,000-member tribe through a period of remarkable economic, developmental, and cultural advancement. He established himself as a national leader in Indian Country by initiating and maintaining relationships with multiple Tribal leaders, banking and financial institutions, federal and state officials, and national political leaders. Throughout his career he has been recognized for his leadership, most recently having been named 2015's Tribal Leader of the Year by the Native American Finance Officers Association.
Kristi Jackson, Chairman of TFA Capital Partners, commented: "We are delighted to have Michell join our team; TFA and its clients will benefit from the wealth of experience and expertise he brings to our talented Tribal Board of Advisors. Michell's desire to foster economic development among tribes across the country and, in the process, support the achievement of financial sovereignty, aligns perfectly with TFA's mission."
"It is an honor to have the opportunity to be part of the TFA team. TFA is the premier source for Tribes as they focus on economic diversification, acquisition opportunities and financing-related services, and it has established significant credibility in Indian Country," says Michell. "The TFA platform is best-in-class and offers a great benefit to our Indian Nations."
After his final term as Principal Chief of EBCI, Hicks, a CPA, established Chief Strategy Group Inc., a firm which, among other initiatives, is partnering with Ambulatory Integration Concepts to execute their jointly created healthcare delivery model, Gen7 Healthcare. The model is designed to elevate the quality of Native American healthcare, while providing new and dynamic economic opportunities for Tribes with which it partners.
In addition to Hicks, Board members include Brian Patterson of Oneida Indian Nation (Executive Liaison and Bear Clan Representative for the Oneida Indian Nation and President of United South and Eastern Tribes), Tom Rodgers of the Blackfeet Nation (of Carlyle Consulting of Alexandria, Virginia), Valerie Spicer of Mescalero Apache heritage (Executive Director of the Arizona Indian Gaming Association), John Tahsuda of the Kiowa Tribe of Oklahoma (currently a Principal in Navigators Global and policy advisor for the Oklahoma Indian Gaming Association), and Daniel Tucker of the Sycuan Band of Kumeyaay Indians (former Chairman of the Sycuan Band of the Kumeyaay Nation and of the California Nations Indian Gaming Association).
Hicks has been recognized many times for his exceptional leadership and accomplishments. In 2013 he was awarded the Tribal Gaming Visionary and Small Business Empowerment Award by the National Center for American Indian Enterprise Development, recognizing his leadership in the $650-million expansion of Harrah's Cherokee Casino Resort and the involvement of American Indian-owned businesses in the project.
In 2015 he was recognized by the Native American Finance Officers Association as the Tribal Leader of the Year. This award is given annually to a Tribal leader displaying exceptional foresight and resolve in the economic advancement of his or her nation. Later the same year, Hicks was recognized by his alma mater, Western Carolina University, with the Professional Achievement Award at the annual Alumni Awards Ceremony. In 2015 he was awarded an Honorary Doctorate of Humane Letters from the University of North Carolina – Asheville.
Hicks is based in Cherokee, North Carolina, and can be reached at michell(at)chiefstrategygroupinc(dot)com or +1 (828) 269-2663.
About TFA Capital Partners
Founded in 2009, TFA Capital Partners provides full-service investment banking services to the gaming and leisure industries, with a focus on serving the needs of Native American Indian Tribes. The company provides capital raising, strategic advisory, M&A advisory (both buy-side and sell-side), restructuring advisory and operational consulting services from its own team and also through a network of affiliated partners. These affiliated partners include: Rossoff & Company LLC (mergers and acquisitions, corporate strategy and restructuring), The Hartmann Group (management, operational and development services) and Odinbrook Global Advisors (Restructuring and Recapitalization). TFA Capital Partners is an independent corporation and is headquartered in El Segundo, California, with an office in Charlotte, North Carolina. http://www.tfacp.com for more information.