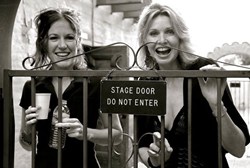 Will Ackerman says "Fiona Joy Hawkins is poised to move into stardom." And Bob Malone says, "Trysette captivates her audience into a pin-drop silence with her ethereal vocals and piano."
Los Angeles, CA (PRWEB) July 31, 2013
Mark your calendar, the perfect "Date Night" is just around the corner. Although these two gals have so much fun together, they're also a perfect choice for your next "Girls Night Out!" Two of Australia's finest contemporary solo artists -- Trysette and Fiona Joy Hawkins -- return to the U.S. this Fall celebrating their love of music and the "grand" piano in the most modern sense.
Their show "Two Grand I'm Yours" offers the best of two musical worlds. Experience a fusion of Pop, Celtic, Neo-classical, and Folk genres as Trysette, the sensual enigma with the husky voice, and Fiona Joy Hawkins, the elegant lady of ivory, offer an intoxicating and unforgettable night of baby grands and gorgeous original music, vocals and tales of the heart. If you like Adele, Fiona Apple, Norah Jones, George Winston or Enya, then you'll love this show!
The 2013 tour is sponsored in part by Little Hartley Music U.S.A./Australia and consists of private shows, intimate clubs and theaters. The pair's successful 2012 tour gained critical acclaim and resulted in numerous live appearances on radio and television in New York, Colorado and Arizona; the two also donated some of their tour earnings to charity.
This time 'round, Fiona Joy Hawkins will debut pieces from her brand new epic album 600 Years in Moment, and revisit favorites from Blue Dream (ZMR Album of the Year) and tell tales like only she can. Will Ackerman (Founder Windham Hill Records) calls Fiona "One of the brightest lights in the contemporary instrumental genre; Fiona Joy Hawkins is poised to move into stardom and we have only to watch to see it happen."
Trysette, intuitively melodic and intelligently sensual, is a singer-songwriter with something to say. On the verge of her fourth indie album, she'll debut new works and share beloved songs like "Silky Fingers" from Le Café Ancien (CMJ Top 30). Bob Malone (John Fogerty) says, "Trysette captivates her audience into a pin-drop silence with her ethereal vocals and piano."
Local musicians such as Peter Janson, Paul Jensen, Lorrie Sarafin and others will open the shows as Guest Artists. Concerts to date include the following:
-Sunday, Sept. 8, Raymond Theater, Raymond, WA
-Tuesday, Sept. 10, Mainly Piano, Florence, OR
-Thursday, Sept. 12, Trinity Alps Performing Arts Center, Weaverville, CA
-Sunday, Sept. 15, Sutter Creek Theatre, Sutter Creek, CA Friday,
-Sept. 20, The Throckmorton, Mill Valley, CA
-Thursday, Sept. 26, The Duplex, New York, NY
-Saturday, Sept. 28, Amazing Things Art Center, Framingham, MA (Guest Artist Peter Janson)
-Sunday, Nov. 3, Lannie's Clocktower Cabaret, Denver, CO (Guest Artist Paul Jensen)
-Monday, Nov. 4, Aspen Community Church, Aspen, CO (Guest Artist Paul Jensen)
-Wednesday, Nov. 6, Moss Performing Arts Center, Grand Junction, CO (Guest Artist Paul Jensen)
-Saturday, Nov. 9, ASU Louise Lincoln Kerr Center, Scottsdale, AZ (Guest Artist Lorrie Sarafin)
-Tuesday, Nov. 12, Julian Public Theater, Julian, CA
Some shows are free with suggested donation, others offer online ticket sales at various prices; please check website ticket links in advance for each location.
Links:
Tickets: http://www.songkick.com/artists/5764329-fiona-joy-hawkins-and-trysette
Tour info & updates: http://www.twograndimyours.com
Facebook: facebook.com/TwoGrandImYours
Print, Radio, TV Media Requests: Beth Ann Hilton, bethhilton(at)theBcompany(dot)com
Fiona: fionajoyhawkins.com.au
Trysette: http://www.trysette.com
Purchase the following music online via iTunes, Amazon, CDBaby or artist sites; also in select retail stores:
TRYSETTE: Le Cafe Ancien, Here On In, French Kiss, Neutral Bay Sessions
FIONA JOY HAWKINS: 600 Years in a Moment, Live at the Q, Sensual Journeys, Christmas Joy, Music for Massage, Blue Dream, ICE, Angel Above my Piano, Portrait of a Waterfall and more.