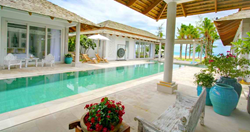 For those who want a more peaceful hideaway set at a charming elevated location, we have a couple or so of hilltop villas that boast some of the most unbelievable panoramas that will keep you coming back again and again
Koh Samui, Thailand (PRWEB) August 04, 2014
Samui Villa Retreat, a full service rental company that offers a wide range of Thailand villas, has just finished adding a variety of new Koh Samui luxury villas to its website. Thanks to the recent website additions, travelers to Thailand can now find even more beautiful and memorable places to stay during their vacation.
Since the day Samui Villa Retreat opened for business, they have strived to offer the most luxurious Koh Samui private villas possible. As an article on the company's website notes, http://www.samuivillaretreat.com, Koh Samui is well-known for being one of the finest destinations in the world for a relaxing and wonderful holiday. From its gorgeous sand beaches and lovely weather to delicious restaurants and much more, Koh Samui is a vacationer's dream.
As the owners of Samui Villa Retreat understand quite well, in order for a vacation to be a success, travelers also need a great place to stay. This is where the newly-updated website can help; by showcasing only the best properties on the island in a variety of sizes and prices, people can find the best villa for them and their family.
"If you love beachfront locations, we have plenty of beachfront Koh Samui villas that you will love," a company spokesperson noted, adding that while they are at the beach, vacationers can spend as much time as they like at the pristine shoreline.
"For those who want a more peaceful hideaway set at a charming elevated location, we have a couple or so of hilltop villas that boast some of the most unbelievable panoramas that will keep you coming back again and again."
No matter which Koh Samui villa vacationers select, they can rest assured that their accommodations will include the best amenities and the top services that are available on the island.
Anybody who would like to learn more about Samui Villa Retreat is welcome to visit the company's user-friendly website; there, they can browse through the wide selection of available villas.
About Samui Villa Retreat:
Samui Villa Retreat is a full service villa rental company with a broad offering of the very best villas on Samui. All of the company's villas have been handpicked and personally inspected by their team to ensure travelers are getting the very best luxury villas that Samui has to offer. For more information, please visit http://www.samuivillaretreat.com/