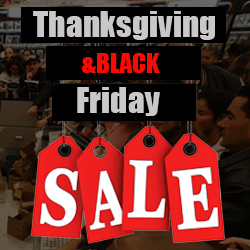 The promotions for Thanksgiving and the following Friday are not commonly seen chances for web hosting discounts. People who are waiting for the best price should not miss them.
San Francisco, CA (PRWEB) November 26, 2014
BestHostingForJoomla now introduces the web hosting promotions from InMotion Hosting, Arvixe, JustHost, A2Hosting, HostGator, BlueHost and GreenGeeks. The 7 hosting providers launch discounts and extras to welcome 2014 Thanksgiving and the following Friday.
On the occasion, up to 59% discount will come into effect. People can pay for a shared web hosting package at $2.23/mo by clicking the given promotional link or using a coupon code. Besides, some extras are also available for customers.
1) A2Hosting – 50% Off
A2Hosting announces 50% discount valid for all hosting plans. During the period of promotion, people can purchase the hosting service as low as $3.49/mo via this exclusive promotional link. Each package comes with extra CloudFlare, which makes a big difference on the improvement of the website speed.
2) InMotion Hosting – 56% Off
InMotion Hosting launches 56% discount to celebrate this shopping carnival. Going through this exclusive promotional link, people can activate the exclusive discount immediately so as to cut the price from $7.99/mo down to $3.49/mo. In addition, some extras are also available, such as site transfer, data backup, 1-click installer, etc.
3) BlueHost – 42% Off
BlueHost has upgraded its hosting service to offer 3 hosting solutions, including Starter, Plus and Business Pro, regularly starting at $5.99/mo. To celebrate Black Friday, this company carries out 42% discount via this promotional link to make all solutions more affordable, starting at $3.49/mo, $3.95/mo and $13.95/mo respectively. Note that, there are $200 marketing offers at most included in each plan.
4) Arvxie – 30% Off
Arvixe offers 30% discount off the regular price $4/mo. Thus, people can purchase the hosting package at $2.8/mo. And also, each hosting solution comes with 60 days money back guarantee, one domain for life, $100 Google Adwords, $75 Yahoo!/Bing Voucher and some other extra services.
5) JustHost – 58% Off
As the most affordable one among those selected companies, JustHost prices its hosting plan from $2.5/mo by offering 58% discount off $5.99/mo. This company enables people to register their domain names without paying extra money and puts the anytime money back guarantee into practice.
6) HostGator – 55% Off
HostGator enables people to enjoy 55% discount during November 28th to December 1st to cut the price down to $2.23/mo. What's more, each hosting solutions comes a bundle of extra services, including site building tools and templates, MySQL transfer, domain transfer and so on.
7) GreenGeeks – 44% Off
GreenGeeks is one of those companies taking concrete action to provide customers with more benefits. This company brings the 44% discount into effect and enables people to purchase the service at $3.96/mo.
Note that, the promotions mentioned above are not only available for Joomla, but also apply to WordPress, Drupal, and some other applications.
To get more offers from Thanksgiving and the following Friday, visit https://besthostingforjoomla.com/2014-november-friday-web-hosting-promotion/.
About BestHostingForJoomla.com
BestHostingForJoomla.com is a Joomla web hosting review site, giving visitors tips on Joomla site building, selection of themes, site optimization, and so on. The website takes visitors' advices to publicize more useful solutions.