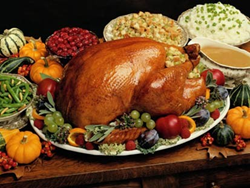 Make the most of your thanksgiving holiday by starting with safety in the kitchen.
Washington, D.C. (PRWEB) November 25, 2013
Thanksgiving is a great time of year—it's the perfect opportunity to enjoy a meal with friends and family and celebrate togetherness. Unfortunately, there are also safety risks associated with the holiday. In fact, it's reported that there are more than 4,000 kitchen fires on Thanksgiving. That's more than double the average number of cooking fires that occur on any given day in the U.S.
SecuritySystemReviews.com, a site that provides valuable home security system reviews of companies throughout the country, whether a homeowner is seeking Vermont security systems reviews to Wisconsin security system reviews, created a list of kitchen safety tips for Thanksgiving.
1. To avoid burns, always use potholders and oven mitts. Regardless of how quickly someone handles a hot pot, a burn can occur and burns can become very severe in a matter of seconds.
2. Always keep debris - including paper towels, food wrappers and oven mitts - away from sources of heat when cooking. This is one of the primary reasons cooking fires begin.
3. Don't cook wearing very loose clothing, or items like scarves. It's also a good idea to wear short sleeves while cooking.
4. Always set a timer to keep track of what's cooking and when it will be finished.
5. Prior to Thanksgiving, check the home's smoke alarms to ensure all of the batteries are working. Smoke detectors are one of the most important components of a wireless security system, and they should always be working properly. Most smoke alarms have a test button, and it's recommended that batteries are replaced at least annually.
6. Check to make sure all sources of heat and cooking appliances are turned off upon leaving the kitchen.
7. After a meal is complete, it's a good idea for someone to walk around the home and make sure all appliances are turned off, and that any candles are also extinguished. Never leave candles burning on a table after a meal is complete.
8. Keep pot and pan handles turned inward while cooking.
9. Clean cooking surfaces before preparing a Thanksgiving meal, because accumulated grease can be a significant fire hazard.
10. When cooking, always have a fire extinguisher located nearby.
11. Thanksgiving can be chaotic, but always try to keep children out of the kitchen and away from cooking food, and sharp objects.
12. No matter how tempting it is to be with guests, it's important that someone remains in the kitchen at all times while food is cooking.
About SecuritySystemReviews.com
SecuritySystemReviews.com is the premier resource for anyone searching for the best security system. The site has a number of valuable resources including in-depth, unbiased reviews of security companies throughout the country, as well as coupons and discount codes that can be used in the purchase a home security system.