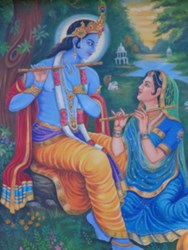 Auburn, CA (PRWEB) November 08, 2013
This highly inspiring Yoga retreat will be a delight to the heart, intellect and soul as students learn from story teller and teacher Adwaita Das and devotional singer Karnamrita Dasi who will be sharing with you their deep devotion to Sri Krishna through stories and songs. Participants will hear stories from the 10th book of the Bhagavata Purana, which is the primary literary source for the incarnation of Lord Krishna. The extracts will feature the amazing lilas, or childhood pastimes of Sri Krishna, which are the most popular narratives of perhaps the most beloved of all Hindu deities, reputed to have taken place when he incarnated on earth. In the last period of his life, Swami Vishnudevananda, the founder of the Sivananda Organization, wanted nothing other than to immerse his mind in hearing these stories. These lilas are easy to grasp, delightful to hear and contemplate, and yet are considered by practitioners of Krishna bhakti to be the most powerful and transformative of all yogic processes. For more information, please visit: http://www.sivanandayogafarm.org/course.php?course_id=836
Hinduism in India
Hinduism in India is essentially bhakti (devotional): traditionally, Indians have not imbibed the yogic world view from dense philosophical texts like the Yoga Sutras, but from the colorful and popular narratives and tales derived from a genre of texts called the Puranas. It is in these texts that bhakti yoga, the path of devotion to a Supreme Being, is outlined and exemplified, and it is through these Puranic tales and legends percolating across the Indian subcontinent since well before the common era that Hinduism has spread and remained vibrant across the centuries. From the 18 'great' Puranas, the Srimad Bhagavata Purana' is by far the most important, and, indeed, its 10th book is one of the two most important texts in Hinduism (along with the Ramayana).
Story telling and Kirtan
The story telling workshops are lead by Edwin Bryant (Advaita Prabhu Dasa), professor of Hindu Religion and Philosophy at Rutgers University, who has been a practitioner of bhakti yoga for 35 years, many of them spent in India. There will be evening kirtan concerts by renown Karnamrita dasi who was deeply immersed in the Bhakti culture of Krishna and India since her childhood. The Thanksgiving Retreat meditation is by Swami Sitaramananda, who was introduced to the Bhagavatam by her beloved Guru, Swami Vishnudevananda. The Yoga retreat includes daily Yoga class , meditation, story telling, kirtan and delicious vegetarian Thanksgiving Feast.
About Sivananda Ashram Yoga Farm
In 1971, Swami Vishnudevananda returned to California and founded the third ashram in the young Sivananda International organization: the Sivananda Ashram Yoga Farm on 40 acres of land located in the Gold Country of the beautiful Sierra Nevada Foothills in Northern California. The non-profit, non-sectarian ashram offers yoga classes, retreats and teacher training courses for students of all abilities. For more information, please visit http://www.sivanandayogafarm.org.