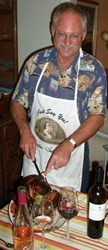 This is one of my best vintages in 40 years of winemaking. ~ Scott Harvey, winemaker.
Napa Valley, CA (PRWEB) November 14, 2013
Napa Valley Winemaker Scott Harvey announces new Thanksgiving wines from both Napa Valley and Amador County, featuring Zinfandel pairings for Thanksgiving dinner recipes. Winemaker Scott Harvey is renowned for his Zinfandel. Last year, Sunset Magazine named Scott Harvey's 2010 Mountain Selection Zinfandel as "The Perfect Zin to pair with a pungent, spicy, fruity Thanksgiving dinner." His 2010 Old Vine Reserve Zinfandel earned 94 points from Beverage Testing Institute. This November, with Thanksgiving around the corner, winemaker Scott Harvey has introduced 3 new red wines created to enhance the Thanksgiving table.
The new Zinfandel releases:

Scott Harvey chooses to make an Old World, Claret style Zinfandel. "Zinfandel doesn't have to be black," said Scott. "I create these wines to perfectly enhance the flavors of the Thanksgiving table, from savory turkey to complex vegetables and traditional fruit pies." The granite soils of Amador County are well-suited to producing distinctive, earthy, full bodied Zinfandels that have a wonderful character all to themselves.
2011 Scott Harvey Mountain Selection Zinfandel: "Napa Valley winemakers are complaining about the cold vintage of 2011. I have always said that when Napa has a cold vintage, Amador has a great vintage," Scott Harvey said. "This 2011 Mountain Selection Zinfandel shows just that. 2011 allowed us to produce Amador Zinfandel in more of an Old World European style of lower alcohol and bright red fruit flavors. The red fruit flavors will go great with a holiday turkey, its dressing and cranberry sauce. This is one of my best vintages in 40 years of winemaking."
2010 Vineyard 1869 Zinfandel: Produced 100% from Vineyard 1869, America's oldest Zinfandel Vineyard documented as existing in 1869. Vineyard 1869 was planted in the days when horses were used for cultivation. This ancient vineyard is non-irrigated, stand alone, head pruned vines that fully express the Amador Zinfandel terroir. This Zinfandel suggests deep blackberry, fig, pomegranate, and violets, balanced with a fleshy center and hints of coffee and bright currants," Scott explained. "Vineyard 1869 offers old vine complexity and first growth quality."
2011 Jana Napa Old Vine Zinfandel: A rich, full-bodied Zinfandel, aged for 18 months in French Oak. "I create this Zinfandel from 80+ year old vines grown in the upper Napa Valley," said Scott. He makes this limited production Zinfandel from a small crop of long stringy bunches, allowing for full Zinfandel maturity when harvested. This is a fruit forward wine with fresh black cherry, currants and mint layered with French Oak.
About Scott Harvey Wines
Handcrafted wines from Napa Valley and Amador County, Scott Harvey Wines produces wines under three labels: Scott Harvey Wines, Jana Winery and InZinerator. Established in 2004, Scott Harvey Wines features Vineyard 1869 Zinfandel, Napa Valley Cathedral Cabernet Sauvignon, Amador County Barbera, Zinfandel and Syrah along with a variety of one-of-a-kind white and red wine blends. Creator of "niche wines that over deliver," Scott Harvey, owner and winemaker, has been making quality wines for over 30 years.
Scott Harvey Wines
http://www.scottharveywines.com
For more information or interview:
All Social
Susan Curtis
susan(at)allsocial(dot)biz