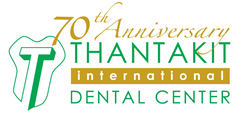 (PRWEB) July 02, 2015
As part of the celebration of its 70th anniversary, the Thantakit International Dental Center in Bangkok Thailand is expressing its gratitude to its patients from all around the world for their continuous patronage of the world-class services of their international dental center. Whether these are patients who are off on a dental tour (indeed, Thantakit is one of the foremost places for dental tourism in Thailand) or locals who wish to partake in world-class dentistry, Thantakit extends its sincerest thanks and appreciation of them in more ways than one.
As such, to commemorate this momentous occasion, Thantakit is offering promotional dental packages with free hotels and free airport transfers for all its customers local and foreign for a limited time. Customers should avail of this sweet detail before it ends. At any rate, the Thantakit International Dental Center would like to give special thanks to Australian citizens for being their number one client among all the regular customers that frequents their dental centers (the main one being the Thantakit Dental Center on New Petchburi Road and other two branches on Wireless Road and in Pratunam that's opposite Pantip Plaza).
With that said, the Australian market undoubtedly recognizes the cost-advantageousness and overall effectiveness of Thai dental services, especially those provided by Thantakit. It also helps that the Land Down Under is quite close to Thailand; plus in Asia, dental tourism is at its peak within the country. For example, Thantakit International Dental Center comes complete with dental implant, crowns, bridges, and porcelain offerings (with free airport transfer and hotel stay thanks to the aforementioned 70th Anniversary promo). Furthermore, Australians and many other citizens from various countries who wish to experience global-level services at heavily discounted prices will always go the Thantakit International Dental Center route.
Customers who have yellowing teeth and are going to Thailand can rest easy. Are they sick of closing their mouth whenever they smile, laugh, or speak? Do they have missing teeth but they're worried about purchasing detachable dentures or undergoing the difficult process of a dental implant? There's no need to fret or worry about that particular issue, because all-new teeth whitening and world-class dental implant services are readily available at Thantakit International Dental Center, Thailand's Longest Established Dental Center.
Contact:
http://www.thantakit.com/
krisadee(at)thantakit(dot)com
Call Center: +662 718 0777
Toll Free Numbers:
Australia : 1-800-502-461
New Zealand : 0800-447-828
UK : 0-808-189-0155