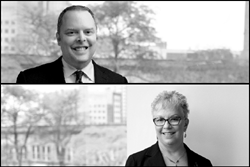 The Alford Group's newly established Corporate Impact Division will serve corporations interested in starting, solidifying or growing corporate philanthropy, corporate social responsibility or corporate citizenship programs.
Chicago, IL (PRWEB) September 18, 2014
The Alford Group is pleased to announce the addition of two Vice Presidents – Brad Ballast and Molly Hansen.
Bradford L. Ballast, Vice President
Brad Ballast comes to The Alford Group with over 17 years of experience in corporate citizenship, responsibility and philanthropy. Most recently, Ballast was Managing Director and Head, U.S. Community Affairs for BMO Financial Group/BMO Harris Bank in Chicago, responsible for developing a very successful community relations program that was implemented across the bank's U.S. footprint. Prior to BMO, Ballast served as Senior Vice President and Director of Corporate Contributions for LaSalle Bank where he was responsible for all of the bank's charitable contributions and sponsorships, nonprofit board placements and training, executive engagement in the nonprofit community, volunteer programs and internal fundraising campaigns.
"Bringing Brad onto our staff is game changing for The Alford Group. Not many consulting firms in our sector have staff with deep experience in the practice of corporate citizenship and corporate social responsibility. Brad's skill set and track record will add greatly to The Alford Group's ability to effectively serve its corporate and nonprofit clients," said Brenda B. Asare, President & CEO.
As Vice President, Ballast will spearhead a new strategic service focused on helping corporations create greater impact in the community. This newly established Corporate Impact Division will serve corporations interested in starting, solidifying or growing corporate philanthropy, corporate responsibility or corporate citizenship programs. Ballast will lead the division in providing services related to corporate giving programs/foundations, strategic philanthropy and reputation management, employee volunteerism, corporate social responsibility and fundraising.
Ballast is a trustee of the Chicago History Museum and an active member of the Committee on Photography at the Art Institute of Chicago. In 2013, he was awarded the Professional Grantor Award by the Association of Fundraising Professionals, Chicago Chapter. This prestigious award is presented to a corporate or foundation executive for professionalism, sensitivity and generous support to the nonprofit community.
During her previous 13 year post as Vice President with The Alford Group, Molly Hansen worked with numerous prominent nonprofit organizations including Chicago Shakespeare Theater, Unity Worldwide Ministries, Prevent Child Abuse America, Make-A-Wish Foundation of Illinois and the American Red Cross of Greater Chicago. She also served as lead recruiter in the launch of Alford Group Executive Search and was the top producer for seven years.
Hansen returns to The Alford Group from Youth Guidance where she was chief development officer.
"We are excited about Molly re-joining The Alford Group. She brings extraordinary value-added experience and commitment to partnering with organizations seeking to break new ground. Molly is a true asset to the firm and to the sector," stated Asare.
"It is a joy and honor to return to The Alford Group and I am excited to work with Brenda and the entire Alford Group team. The nonprofit sector and the philanthropic world is very different these days from what it was just a few years ago. Today, we are called to serve clients in individualized ways with products and services that address their unique issues. The opportunity to serve our clients so that they achieve their highest good is my passion and the best team to do that with is The Alford Group. This is an exciting time for all of us," said Hansen.
In addition to Youth Guidance, Hansen has served in top development roles with The Joffrey Ballet, Northlight Theatre and the Goodman Theatre. Hansen received her Bachelor of Arts from Hastings College and her Master of Arts from the University of Kentucky.
About The Alford Group
Celebrating 35 years of serving the nonprofit sector! As a national full-service consulting firm serving nonprofits since 1979, The Alford Group has empowered more than 3,000 mission-based organizations around the world to grow, improve, and fulfill their missions. Our mission is to strengthen the not-for-profit community. From our offices in Seattle, Chicago and New York, we offer customized solutions to nonprofit organizations, corporations and foundations in fundraising, organizational strategy and assessment of structure and impact, governance and professional development, all based on sound principles, guidance, tools and structures that help organizations realize their full potential and greatest community impact. Learn more about The Alford Group at their website or LinkedIn.