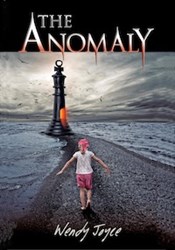 Joyce's craftsmanship is brilliant.
Fair Oaks, California (PRWEB) September 17, 2013
'The Anomaly' by Wendy Joyce tells of a battle between Haven and Hades, of tactics and plots between warring Guides, and of strategies derailed by a small, clueless, impish soul named Zia. "...Zia has bewitched me," Maryland Writers' Association states upon awarding the novel first-place in speculative fiction. "She pops into my head at random times. She is funny, irreverent, and so enticingly human." Now available in digital format from all major online retailers, eBook readers can meet the bewitching Zia in 'The Anomaly.'
ForeWord/Clarion Reviews gives 'The Anomaly' five stars, stating, "'The Anomaly' throws back the veil that divides the celestial realms of Haven and Hades from Earth and offers her readers an exciting suggestion of what lies out there in the metaphysical realm. Readers will chuckle and sniffle during Zia's very human attempts to discover her full potential. Despite her flaws, she is an unusual, likeable, and memorable character. But it's not just the quirky characters that make this book worth reading; Joyce's craftsmanship is brilliant. With laugh-out-loud humor and elements of fantasy, science fiction, and mystery, 'The Anomaly' will appeal to a wide audience, teenagers and adults alike."
'The Anomaly' is a result of Joyce's fascination for the infinite possibilities that might explain human existence. "From metaphysics to physics," she states, "from doctrines of dogma to laws of science, from history to mathematics to astronomy, it is a limitless universe of possible answers. Maybe each person has one piece of the puzzle right...and that's it. If some part of us lives on—quantum conscious or spiritual soul—I bet we chorus the same first thought in the afterlife. 'Wow! We were way off; we weren't even in the ballpark.'"
Published by Capitol Electronic Reporting, 'The Anomaly' by Wendy Joyce is now available at all major retailers, including Amazon.com, Barnesandnoble.com, Apple's iBookstore and eBookIt.com.
About Wendy Joyce
Wendy Joyce lives with her husband on their lavender farm in the Sierra Nevada foothills. For 25 years, she has been writing and editing in the technical and legal arena. As a fiction writer, she debuts with 'The Anomaly.'
About eBookIt.com
Since 2010, eBookIt.com, based in Sudbury, Massachusetts, has helped thousands of authors and publishers in converting books to eBook and in distributing the eBooks to all major retailers, including Amazon.com, Barnesandnoble.com, Apple iBookstore, Kobo, Sony Readerstore, Ingram Digital, and Google eBookstore.
###