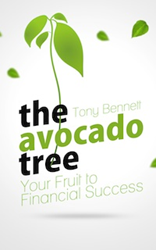 In the same way that no company can possibly survive today's climate without a plan, no family can prosper and grow without a written strategic and action plan.
Nelson Mandela Bay (Port Elizabeth) , South Africa (PRWEB) April 16, 2014
Twenty years ago, Tony Bennett fulfilled his long-held ambition of an early retirement free from financial worry. It was not the result of chance or luck, Bennett planned for it and made it happen. When his adult children suggested that he write down his formula for success, the idea behind 'The Avocado Tree' began to grow.
Bennett compares the coincidental nurturing and abundant fruit borne by his family avocado tree to his financial – and family – success. In 'The Avocado Tree,' he unveils his 17 theories, or principles, for financial stability, health, happiness, and for the satisfaction of a life well lived. The theories are the results of life lessons learned, whether during childhood or adulthood, and they continue to be the cornerstones of Bennett's life.
He explains, "The 17 principles that I refer to as 'Bennett Theories' are set up as a guide for how to be successful and live a balanced and happy life. While this book is essentially about protecting and nurturing a financial future, it also covers a range of other issues, because nothing in life can be achieved in isolation. I hope that it strikes a chord and triggers the start of new and wonderful things for everyone that reads it."
'The Avocado Tree' is not merely a financial to-do list. It is also an amusing memoir of Bennett's life, where he interweaves his personal and professional history with practical and motivational advice. The anecdote surrounding his first theory allows the reader to recall the acute sting of childhood disappointment, while clearly understanding and sympathizing with the adult point of view. He takes the reader through many decisions that he made throughout his life, sharing both the fear and the thrill of change.
Bennett's sense of humor and positive outlook are evident, and are key elements of his success. He encourages both to the point where he includes them in his theories. He also stresses the importance of setting up, writing down, and sticking to goals. The avocado tree in his backyard serves as an analogy throughout the book. He made a plan to help it grow, nurtured and cared for it when needed, stepped back and reassessed during "off" seasons, and brought it to fruition for his family. He did, and continues to do, the same with his life. Bennett concludes his book with a list of actions the reader can take to plan a financial future. He provides examples and goals, and breaks it down into practical steps. It is the same strategic and action plan he uses within his own family.
Bennett views 'The Avocado Tree' as a family's holistic approach to finance. He urges, "If you want to get your money's worth out of this guide and enjoy future happiness, then roll up your sleeves and dig deep to obtain the details that form the foundation of what, in the future, will be a relatively easy task. In the same way that no company can possibly survive today's climate without a plan, no family can prosper and grow without a written strategic and action plan."
'The Avocado Tree' is published in eBook format by Vibrablue Limited and distributed by eBookIt.com, and is now available from popular online retailers, including Amazon.com.
eBook, Audiobook and hard copies are also available at the Authors website, at slightly reduced prices: http://www.the-avocado-tree.com.
About The Author
Tony Bennett was born into a working-class family in one of the poorer suburbs of Johannesburg in 1944. After high school, he began a career in banking during which he was transferred throughout South Africa. In 1970 Tony was headhunted by a small trust company in Port Elizabeth in the Eastern Cape, and over the following twenty-five years he progressed to become the general manager of a Johannesburg Stock Exchange listed bank. In 1994 he fulfilled a personal dream when he took his long-planned early retirement. He originally wrote 'The Avocado Tree' in 1996 at the request of his children, and, having sold numerous copies locally, has now decided to publish internationally.
About eBookIt.com
Since 2010, eBookIt.com (based in Sudbury, Massachusetts) has helped thousands of authors and publishers get their books converted to ebook format, and distributed to all the major ebook retailers, including Amazon.com, Barnesandnoble.com, Apple iBookstore, Kobo, Sony Readerstore, Ingram Digital, and Google eBookstore.