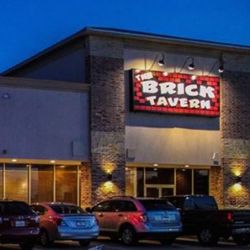 Sachse, TX (PRWEB) July 19, 2014
Great News, The Brick Tavern is Proud to announce some new vendors have jumped on board to help benefit the Wounded Warriors. This event is promoted and put on by Bikes, Cars, Boats, and Blues, and The Brick Tavern is proud to host it this year. Go to http://www.BrickTavernSachse.com for more info.
The vendors so far are as follows: Sconyers Electric, Linear Automotive, Build A Custom Motorcycle.com, Pickard USA, Soliz Images, Delicious Dolls Magazine, Mr Picklepop, Help DFW Kids.com, Precision Reprographics, DFW Designs, Firestone Garland, Scarecrow Tattoo, High Energy Customs, Cotton Kandy Boutique, Sun Lounge Tanning, Rockin Royal Boutique, Taco Delite, Affordable Tactical, Lone Star Heat & Air, Napolis Italian, Shoemaker & Hardt, Stillers Precision Firearms, Leinart Construction Inc, O'Reillys, Laser Wraps, Diamonds Nail & Spa, Ballard Street Cafe, Vapor Stuck, Collins Propane, Rick's Home Store, Wylie Printing & Office, and Tim The D.J.
Raffle Tickets & Silent Auction items are: $500.00 gift certificate From Firestone, $3000.00 Vehicle Wrap, Free Tanning, Free Sandblasting, Tattoo Gift Certificate, $50.00 Dog Grooming, Gift Certificate to Ricks Home Store, Texas Ranger Tickets & Parking Pass, Wash & Detail Bucket, Auto Zone Tool Set, Patriotic Wreath, Boutique Baby Outfit, Cotton Candy Boutique Basket, (2) $100.00 Vapor Struck Gift Certificates, $50.00 Gift Card to Affordable Tactical Supply, Candles, Full Service from High Energy Customs, Lots of Restaurant Gift Cards, Nail Spa Gift Cards, Grocery Gift cards, and much more.
The Brick Tavern in Sachse will be serving the best restaurant style food all day. Go to http://www.BrickTavernSachse.com for more info.