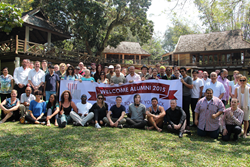 (PRWEB) March 10, 2015
On February 26th, former clients of The Cabin Chiang Mai – Asia's leading addiction treatment centre – from America, Europe, the Middle East, Australia and around Asia flew into Chiang Mai, Thailand, for their 2015 Alumni Reunion and to celebrate the rehab's 5th Anniversary.
The two-day event, which was attended by over 100 former clients, featured a camp out on the center's rolling riverside lawns on the first night. The celebrations opened with a welcome speech from Program Director Alastair Mordey, also author of the The Cabin's highly effective and hugely successful Recovery Zones treatment program. It was followed by a delicious barbecue dinner and campfire-style group share meeting where alumni and current clients exchanged experiences. The meeting served as a great encouragement for clients currently in treatment to persevere with the program.
The next morning, three of the alumni took to the podium to give an update of their progress in recovery and reveal how their experience at The Cabin had transformed their lives. This was followed by a graduate ceremony where all former clients were presented with inscribed vintage-silver medals. The reunion concluded with a sumptuous celebratory lunch.
The Cabin Chiang Mai is an exclusive substance and process addiction treatment center with 50 beds that offers resort-style facilities. To date, it has successfully treated over 1,000 clients from around the world with a 96% program completion rate. Its success is attributed to its unique Recovery Zones treatment model that is an amalgamation of the most effective, evidence-based addiction treatment methods, including CBT, mind mapping and the 12 Step principles. The latter of which has been secularized by The Cabin's clinical team so as to be culturally friendly to all. These psycho therapies are augmented by Mindfulness and exercise therapy to form a program that treats the addict holistically.
For more information please contact The Cabin Chiang Mai directly or their PR representative Edelman Healthcare at:
The Cabin Chiang Mai
Reeya Chaicharas, PR Manager
+66 (0) 80446 8850, reeya(at)thecabinchiangmai(dot)com
Edelman Healthcare
Diane Barton, Account Manager
+61 (02) 9291 3368, Diane.Barton(at)edelman(dot)com
About the Cabin
The Cabin Chiang Mai is Asia's most respected inpatient drug and alcohol treatment center, with two facilities and a secondary treatment Sober House located in Chiang Mai. Since late 2009 the Cabin has treated over 1,000 men and women from around the world with a program completion rate of 96% and a recovery rate amongst the highest in the world.
The unique program at The Cabin, called Recovery Zones, uses a combination of CBT, mind mapping and a secularized version of 12 Steps; plus mindfulness therapy and physical exercise therapy. A fully inclusive 28 day program at The Cabin Chiang Mai costs $12,900, about a third of the cost of private rehabs in the West.