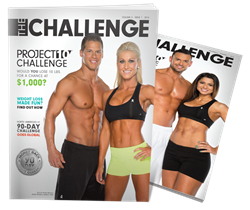 We are thrilled to see the Vi Dream Team's accomplishments featured in The Challenge magazine! -Melanie Milletics
Tampa, FL (PRWEB) January 24, 2014
The Challenge Magazine now on news stands across North America and the UK features over 1000 real people with real results from the Project 10 Challenge. Featured in the magazine are members of the Vi Dream Team who are Champions, finalists, or celebrity promoters of what is the #1 Weight Loss and Fitness platform in North America, the Project 10 Challenge from Body By Vi.
Allen & Melanie Milletics of Tampa, FL are Active Couple Champions who won the Challenge in the spring of 2013. You'll find their champion photo on page 44, proudly wearing the medals from running the Gasparilla race in Tampa together, a culmination of their 90 day active challenge to get into the best shape of their lives. The Body By Vi Challenge has impacted their family in many positive ways, including 45 pounds combined weight loss and increase vitality for both Allen & Melanie. As Ambassadors and founders of the Vi Dream Team, their goal is to lead other families to a life of health and prosperity, and they are challenging the world, 10 pounds at a time.
Teresa Scanlan, of Nebraska is Miss America 2011 and can be found on page 16 of The Challenge Magazine, along with the many celebrities who have taken on the Challenge to achieve their weight loss and fitness goals. Teresa's platform is eating disorders, and she is extremely passionate about The Project 10 Challenge since it offers a proven, healthy way to achieve a natural healthy weight, 10 pounds at a time with the healthy fast food from Body By Vi.
Sandra & Jamie Clark were Active Couple's Finalists in 2013, and can be found on page 58. Their goal was to complete a 5K mud run together, and after losing a combined 63 pounds, they crossed the finish line hand in hand. The Body By Vi Challenge has literally changed their life, health and family by injecting a new level of vitality into their lives.
Marlene Acosta can be found on page 14 of the Spanish version of The Challenge magazine for being a Project 10 winner. Marlene lost 10 pounds with Project 10 and won $1000. Every week Project 10 awards 10 people who lose 10 pounds with $1000. Marlene is a personal trainer and fitness instructor whose goal is to help others reach their goals 10 pounds at a time with Project 10.
The Body By Vi Dream Team is passionate about the Challenge, and the new Challenge magazine helps them to promote what has so positively impacted their lives. Publication beats conversation every time, and with a new Challenge magazine, sharing the Challenge from ViSalus is easier than ever. Look for The Challenge magazine at a newsstand near you, or contact 2-Star Ambassador Melanie Milletics for more information at http://www.GlobalBodyByVi.com.