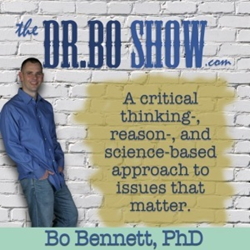 The goal of this show is to contribute to the well-being of individuals and society by combining education with entertainment.
Sudbury, MA (PRWEB) April 22, 2015
Doctor of social psychology, published author, and entrepreneur Bo Bennett unveils his newest online project called "The Dr. Bo Show." In a series of podcasts featured on his website TheDrBoShow.com, Bennett selects show-worthy questions submitted by his audience and followers, and provides critical thinking-, reason-, and science-based responses covering many topics, including psychology, science education, belief, human behavior, success and motivation, and well-being and happiness.
"The Dr. Bo Show" podcasts are both educational and entertaining, offering audience-driven content and the opportunity to participate in further discussion about each episode. A dynamic question and answer tool provides a streamlined platform where moderators and users build and contribute to a constantly evolving knowledge base. In addition to audio and text versions of each podcast, Bennett offers YouTube videos for most episodes, utilizing visual elements to help illustrate his answers. "The goal of this show," says Bennett, "is to contribute to the well-being of individuals and society by combining education with entertainment."
Bennett's unique approach to addressing what he calls "issues that matter" reveals itself in the expansive list of subjects that he can discuss from a science-based perspective, while also keeping listeners engaged, eager to participate, and entertained. "What you get from me is something you can't get from Google," says Bennett. "I am not a regurgitator of facts; I am a synthesizer of information—information from many disciplines combined with decades of experience that together, bring you my informed opinion."
"The Dr. Bo Show" premieres on April 22, 2015 with additional episodes to follow. This episode is available online at TheDrBoShow.com.
Listeners can submit questions and actively participate in discussions about each episode by registering for a free account at TheDrBoShow.com. Each podcast is available on the website in text format, audio podcast (also on iTunes), and abridged "To the Point" YouTube videos (available for most shows).
Dr. Bennett is available for interviews and speaking engagements on a variety of topics.
CONTACT:
Karen E. Carpenter
pr (at) archieboy (dot) com
617-936-0112
About Bo Bennett
Bo Bennett has a PhD in social psychology, and is a successful, serial entrepreneur and published author. In addition to TheDrBoShow.com, Bennett administers several other online projects including a series of online courses in critical thinking, positive humanism, personal achievement and success, and more. For full details on Bo and his current projects, visit http://www.BoBennett.com.
###