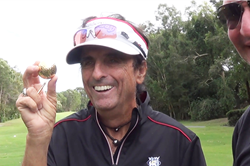 that's the second golden egg he's found since being in Australia
(PRWEB) May 23, 2015
Legendary rock icons Alice Cooper and Motley Crew are touring Australia as a double act in what Motley Crew say is their final curtain. Alice is the support act; however, after several concerts in the major cities, it appears Alice is blowing the Crew off the stage.
During some leisurely time down under, Cooper, who used his love of golf as a means to free himself of drugs and alcohol addiction, was invited for a round as guest of honor at the 'Rebel FM Alice Cooper Golf Day'. Cooper was especially chuffed to be presented with a gold dipped golf ball from station sponsor http://www.EternityRose.com. A member of the crowd commented that after Alice's show last night, "That's the second golden egg he's found since being in Australia", referring to his upstaging of Motely Crew.
Alice Cooper fans have been thrilled by some of the stage props that made Alice infamous during his nearly 50 year career, including the guillotine, the electric chair, fake blood and dueling swords.
The Godfather of shock rock thrilled audiences and delivered sizzling renditions of his hits and classic stage antics, underpinned by energy that belies his 68 year vintage.
"He must have outperformed Vince Neil (of Motley Crew) 10 to 1" according to one of the interviewed fans.
Alice also revealed his love of ballads and a desire to deliver a well written ballad for a major movie such as Frozen 2. The Queen of Arendelle will never be the same!
You can view the Alice Cooper presentation live on the golf course here: https://youtu.be/330LTGeifIk
Courtesy: http://www.eternityrose.com