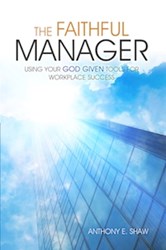 Shaw provides a thorough and empowering practical guide for everything a manager needs to succeed.
Scarsdale, NY (PRWEB) October 02, 2013
The troubled global economy has forced many businesses to outsource, downsize and reorganize, creating a climate of uncertainty about job security and worries about the bottom line. It's not a stretch to imagine that workplace culture has suffered as a result. Anthony E. Shaw's 'The Faithful Manager: Using Your God Given Tools for Workplace Success' makes a timely arrival. Shaw's book addresses what he believes is a growing need for management tools—rooted in the tenets of faith and spirituality—that foster civility in the workplace, improve and strengthen leadership, increase productivity, and rely on respect, honesty and fairness to move toward a common goal.
It would be easy to assume that respect and fairness are part of every manager's repertoire. Not so. Anthony E. Shaw, drawing on his own diverse and prolific professional experience, illustrates that these, and other essential components, are often missing. The consequences aren't surprising: low morale, tension between colleagues, and a breakdown in communication between workers and managers. The key to harnessing these components, Shaw explains, is developing a deep connection to one's faith—and the Creator of that faith—which he believes is the foundation of true leadership.
For over 35 years Shaw has worked in many capacities, including senior-level management and HR leadership, where he has managed a variety of complex situations. In 'The Faithful Manager' he shares his insights about ethical behavior, compassion, patience, the ability to listen, leading by example, learning from mistakes, and how these principles have played a primary role in his mastery of managing people well. "Having been part of the lives of so many at work," Shaw says, "I realized that when I connected on a one-to-one basis with everyone, I helped them significantly, and they enriched my life and my work performance."
Shaw provides a thorough and empowering practical guide for everything a manager needs to succeed. He offers detailed accounts from his own career (including his time as the Deputy Mayor of Yonkers, NY), as well as best practices for everything from disciplinary matters and performance evaluations, to legal issues, hiring, and termination. In addition, Shaw uses passages and principles from scripture, the wisdom and insights of scholars, examples of successful business leaders, and meaningful quotes to further highlight his well-developed concepts. There is no shortage of engaging anecdotes and end-of-chapter lessons to enhance the already compelling subject matter.
Guided by faith, Shaw delivers a powerful message about the importance of building an organizational culture that supports the values that contribute to success in the workplace. "'The Faithful Manager' has relevance to everyone in the work world," Shaw says. "There are God given abilities we all possess that will strengthen our performance, improve our work environment, and add to the bottom line of our organization."
'The Faithful Manager: Using Your God Given Tools for Workplace Success' is published in eBook format by eBookIt.com and is now available at popular online retailers including Amazon.com, BN.com and Apple's iBookstore.
About Anthony E. Shaw
Anthony E. Shaw is a human resource leader and consultant with over 35 years of senior professional experience. He is the founder of Anthony E. Shaw Consultants, Inc., a management and human resources consultancy with clients in banking, education, healthcare and manufacturing.
He is the former Deputy Mayor of the City of Yonkers, NY and the founder and first Director of the Internal Control Unit of the New York City Department of Investigation. He was North American Vice President for DHL/Danzas Air & Ocean, the logistics division of the Deutsche Post.
He brings value to his consulting clients through organizational development, management training, policy development and implementation, representation before oversight and legal agencies, and other engagements.
He is the recipient of the YWCA African-American First Award.
About eBookIt.com
Since 2010, eBookIt.com (based in Sudbury, Massachusetts) has helped thousands of authors and publishers get their books converted to ebook format, and distributed to all the major ebook retailers, including Amazon.com, Barnesandnoble.com, Apple iBookstore, Kobo, Sony Readerstore, Ingram Digital, and Google eBookstore.